ICE presents "George Lewis and Friends" | Concert preview
International Contemporary Ensemble pays tribute to a titan of improvisation by tracing his influence.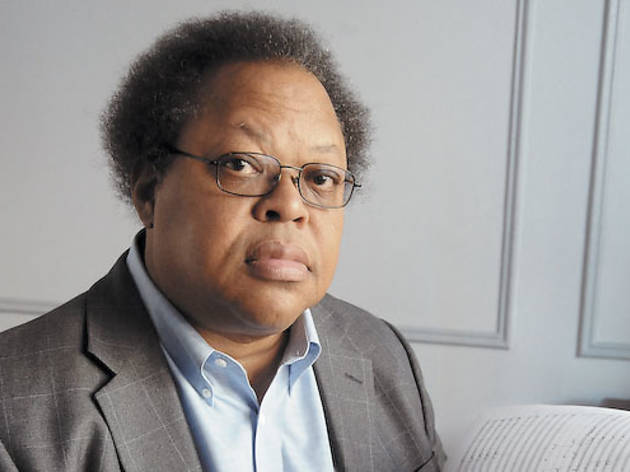 An eminent trombonist and composer, appearing on more than 140 recordings alongside the likes of John Zorn and Bill Frisell in addition to his solo work, trombonist George Lewis is also vice chair of the Department of Music at Columbia University. There, his advocacy on behalf of young composers is legend. "I see him as one of the bright lights of our time. [He's] a huge supporter of other composers' work, an unusual quality in a crowded and competitive field, and a kind of father figure for many," says Claire Chase, founder of the International Contemporary Ensemble, which will perform Lewis's work at the Museum of Contemporary Art.
"George Lewis & Friends" is ICE's second venture into performing the composer's scores, following the "George Lewis Composer Portrait" at Columbia's Miller Theatre in November 2011. Rather than staging a strict "portrait" concert, the event includes young composers influenced by Lewis's innovations in improvisation, computer music research and experimental jazz. As program complements to Lewis's "Artificial Life 2007," ICElab commissioned works by Tyshawn Sorey ("Ode to Gust Burns"), Steve Lehman ("Impossible Flow") and Nicole Mitchell ("The Cave of Self-Inception"). Describing his piece to us as "rooted in the physicality of live performance," Lehman is effusive in his praise of his mentor: "George's ongoing legacy of pursuing the music that he's most excited about, without succumbing to historical dogma or style, has provided an important model for my own work."
This lack of a tether to any particular genre or mode of composition is the most arresting element of Lewis's output. "As an experimental artist, the main task is to create; genre talk just gets in the way," the 59-year-old tells us via e-mail. For "The Will to Adorn," the composer found inspiration in Zora Neale Hurston's 1934 essay, "Characteristics of Negro Expression" in which the writer examines African-American contributions of metaphor and double-descriptives to the English language. "Listeners will hear the results of recursive adornment as a compositional method, where the sounds are 'overstuffed,' as Hurston put it, to the brink of breakdown," explains Lewis.
A MacArthur Fellow, Lewis is highly regarded for his intellectual forays, including a 2008 book examining Chicago's Association for the Advancement of Creative Musicians, A Power Stronger Than Itself. What concertgoers will experience at MCA, however, is music that reaches out from the stage in an aural embrace. "The performers in ["Artificial Life 2007"] are doing the same thing on stage that we all do in everyday life—responding to conditions and facing the conundra of choice," Lewis says. "The audience can hear the music as involving empathy and commonality of experience."
ICE conductor Steve Schick, who taught alongside Lewis at UC San Diego and is percussionist for "Artificial Life 2007," puts it more directly: "We all know of George Lewis's intellectual brilliance, but what listeners will also hear is his humanity."
ICE presents "George Lewis and Friends" Sunday 5 at the MCA Stage.