Rigoletto | Preview
Lyric Opera of Chicago presents Verdi's tour de force.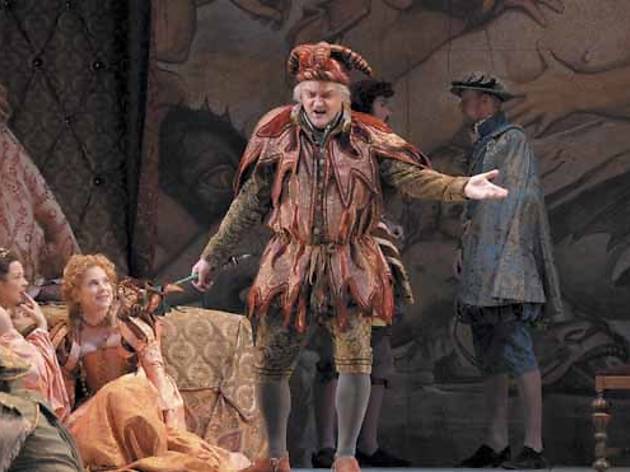 "Rigoletto packs a punch in every moment," enthuses conductor Evan Rogister, speaking about Lyric Opera of Chicago's latest production. "Working on this opera, one gets the chance to realize what a dramatic masterpiece it is." Premiered in Venice in 1851, Verdi's tour de force tells the story of a hunchbacked court jester who, due to a terrible curse, fails to protect his beloved daughter Gilda from the rapacious advances of the slimy Duke of Mantua.
"The opera is very Shakespearian in its proportions," says Rogister, who at 33 is steadily making his name as one of classical music's finest young conductors. "The way the tragedy is set up, you know from the very beginning what's going to happen, you just have to arrive there. It's fun for me to preside over the pacing of something I know is going to have such a powerful effect on the audience."
Lyric's stellar cast includes Italian lyric tenor Giuseppe Filianoti (Mantua), Polish baritone Andrzej Dobber (Rigoletto, played by Serbian baritone Zeljko Lucic March 14–30) and Russian coloratura soprano Albina Shagimuratova (Gilda), all of whom make their Lyric debuts alongside Rogister. The orchestra is also a huge part of Rigoletto's drama. In a revolutionary departure from the smoothness of bel canto, Verdi's emotionally intense orchestration focuses on taut, tough melodies that call for striking solos from across the orchestra pit.
A longtime Verdi fan, Rogister believes Rigoletto to be one of the composer's most stunning and enduring works. "You might think, 'Oh this operatic story about a hunchback—how's that going to affect me?' But somehow it's just so touching that it continues to move people through the centuries. It's just a really, truly gut-wrenching story."