Things to do in Chicago this fall: 10 best classical and opera concerts
Must-see chamber music, operas, recitals and orchestras at Symphony Center, Harris Theater, Constellation and elsewhere this fall.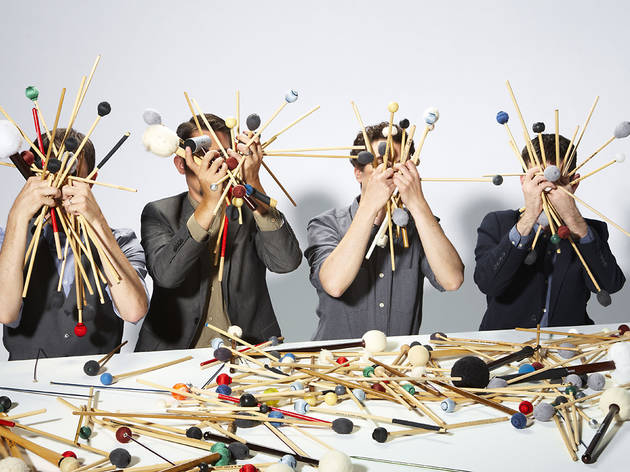 Beethoven Festival 2013: LOVE George Lepauw's audacity in creating an XXL-sized classical music festival in Chicago is a story in and of itself, but the roster for the 2013 installment, entitled "LOVE," is simply astounding. The founder, president and Chicago resident has assembled a 9-day, 100-plus event affair that includes visual art installations, fashion shows, educational opportunities and new-music programming to interact with the Festival's classical core. Performer highlights include conductor-composer Matthias Pintscher of Ensemble Intercontemporain, Christopher O'Riley, Anthony Molinaro, David Aaron Carpenter, Glen Kotche of Wilco and the Lincoln Trio. Sept 6–15.
International Contemporary Ensemble: Beethoven and Lewis Septets If you don't know the name George Lewis, add A Power Stronger than Itself to your Amazon cart immediately. That he is one of the world's most erudite writers on music and issues of race is only half of the equation. Lewis is a vanguard of improvisation and composition, and following a successful collaboration with the International Contemporary Ensemble at the Museum of Contemporary Art in 2012, the team regroups for a new Lewis work entitled Born Obbligato. Written as a musical interaction with Beethoven's Septet, Op. 20 (also featured on the program), Born Obbligato will undoubtedly call on the improvisation acumen of the exceptional ICE performers. Sept 15.
Chicago Opera Theater: Joan of Arc With Lyric offering a disappointingly safe season this year, all eyes are on Chicago Opera Theater to deliver the new(er) goods. The company's season sits solidly in the 20th century with the exception of one lesser-heard number, Verdi's Joan of Arc. The work was voted onto the season by COT subscribers to celebrate the composer's 200th anniversary and the POV chosen for this production is especially enticing. A contemporary sect of religious zealots provide the sanctimonious pyre into which Joan of Arc's own spiritual fervor is consumed. Sept 21, 25, 27, 29.
Ryan Muncy: Hot Album Release Show One of the primo side-effects of new music is the popularization of instruments left behind in the traditional canon. Ryan Muncy has built a substantial career around bolstering the saxophone repertoire, and in September he unleashes the solo fuego with his debut album, Hot. Featuring brand new cuts by compositional heavyweights Chaya Czernowin and Marcos Balter, the saxophonist's record is rounded out with thermogenic tracks by Franco Donatoni, Georges Aperghis, Anthony Cheung and Aaron Cassidy, with collaborators Ensemble Dal Niente, Calire Chase (flute), Nadia Sirota (viola) and Ben Melsky (harp). Sept 22.
Claire Chase DENSITY Album Release Show In a mixtape world, Claire Chase makes solo flute albums that demand to be experienced top-to-bottom. The MacArthur Fellow's first two records, Aliento and Terrestre, are unassailable and we are greedily awaiting her latest, DENSITY. Descending from highest density (11 multi-tracked flutes) to lowest (solo), the tracklist sees Chase navigating scores by Steve Reich, Edgar Varèse, Alvin Lucier, Marcos Balter and Philip Glass with the help of sound engineer Levy Lorenzo. Sept 29.
University of Chicago Presents: Pacifica Quartet Pacifica Quartet cracked out some of our favorite CDs in recent history with their complete Shostakovich quartets on Chicago's Cedille label. In October, the superb ensemble delivers a behemoth of a program with Britten's String Quartet No. 2, Op. 36, and Beethoven's String Quartet Op. 130, including the mighty Große Fuge, Op. 133. Oct 6.
Jeremy Denk: Goldberg Variations Why are classical music devotees persistently nerd-ing out over Bach's Goldberg Variations? Jeremy Denk's insightful and disarming introduction should help provide the answer. This klavier black-belt harbors a preternatural ability to deliver world-class recitals while keeping his footing solidly on terra firma through self-deprecating blog posts and pretense-free approach to musical discovery. Oct 13.
Ensemble Dal Niente: Johannes Kreidler Every entry on this Fall Preview list is a "can't miss," but the arrival of Johannes Kridler on US soil is a veritable coup. Check out these Xbox Kinect shenanigans. The young German tends to stir up heated debate with his provocative approach to composition and we can't think of a more perversely perfect marriage than with the fearless musicians of Ensemble Dal Niente. Expect a heavy dose of electronics, video and unreasonable numbers of samples packed into tiny segments of time. Oct 15.
Third Coast Percussion TCP killed with its Rock Dots, Knick-Knacks and Wrist-Watch Geology show at Mayne Stage this past May, and the quartet's upcoming season opener boasts some serious compositional heft as well. Nathan Davis, David Lang, John Cage, Thomas Meadowcroft and Tierry De Mey are on the bill, and if past concerts are any indication, heads will bounce. These unstoppable mallet-weilders have recently been named ensemble in residence at Notre Dame University and for its season launch, the group zooms the lens in to explore miniature sound worlds. Oct 20.
Ensemble Recherche One essential element of the Chicago new-music scene is the preponderance of über-talented young composers calling the city home. To workshop and showcase new works by its up-and-coming compositional aces, Northwestern University's New Music Institute is flying in the venerable members of Ensemble Recherche. Widely hailed as one of the leading contemporary music cartels in the world, Recherche will work closely with composers Eliza Brown, Chris Fisher-Lochhead, Katherine Young and Joan Arnau Pàmies before firing these brand-new scores into being with a live performance at NU's Lutkin Hall. Nov 7.
RECOMMENDED: more things to do this fall