Chicago burlesque's matriarch, Michelle L'amour
Michelle L'amour perfects the art of burlesque, and the Chicago scene while she's at it.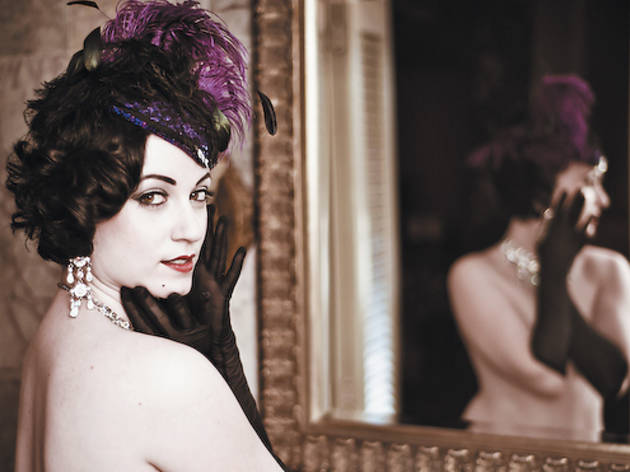 From the playful—America's Next Top Bottom, the Best Seat in the House—to the less subtle—the Ass That Goes POW, the Most Naked Woman—Michelle L'amour knows how to make a name for herself and for her curves. One of Chicago's premier neo-burlesque stars, L'amour began teasing in early 2003, before the city had a scene it could call its own. "There was one show that happened once a year," L'amour notes.
Now, scarcely a night goes by when you can't surround yourself with feather boas, twirling pasties and flying brassieres. "I realized the only way I could make a career out of this was if I educated people on what burlesque was," the raven-haired 30-year-old explains. "I took the role pretty seriously and I felt responsible for exposing them—I guess that's a pun—to burlesque."
A Chicago native, L'amour studied ballet, jazz and modern before embracing her more sultry side. Moving on to teaching, she developed what she calls the L'amour method, opening her own dance studio two years ago. "Burlesque is an art, too. It should have a method of instruction and style, so I thought I'd put my stamp on that," she says. "Anybody can do burlesque. Your shape or your gender doesn't matter; it's all about the exaggeration of what you've got. If you're going to get naked, you should know how to move your body."
The city's burlesque matriarch has coached multiple acts into the coveted Burlesque Hall of Fame, in Las Vegas, by focusing on movement before diving into characteristic neo-burlesque traits like story, costumes and theatrics. She won Miss Exotic World—"like the Miss Universe of burlesque"—in 2005. Showcasing this talent and a host of national Hall of Fame winners, L'amour throws her second Superstars of Burlesque revue at the Park West on Friday 16. During a recent phone conversation, she talked up the Chicago talent she helped cultivate.
The Chicago Starlets "When I started teaching, all these girls had a lot of potential. I decided to pick out a couple and start a group. I'm up to about 17 girls right now. It's part of my dream: I really wanted to have this Follies feel and have a big line of chorus girls." Synchronized burlesque troupe the Chicago Starlets was crowned World's Best Burlesque Group in 2010. In the Superstars showcase, the Starlets perform two acts ranging from hilariously cheesy to sexed-up and dirty.
Hot Toddy "When I started working with Hot Toddy, he wasn't even Hot Toddy. I said, 'Why don't you do this little burlesque thing?' A couple weeks later he came up with a number and he submitted it to the Burlesque Hall of Fame contest. He got accepted to perform and he won. I feel like the burlesque mom of Chicago, birthing all these naughty people." King of Boylesque in 2009, Toddy performs a comedic number in the Superstars show, a change of pace from the unabashedly sexual teases he normally performs.
Stage Door Johnnies "The Johnnies are doing a drum-line number. It's very strong and masculine, and the beats are really heavy. Their choreography is very smart, sexy and fun, and girls and guys go wild when they see them." This year the trio took home World's Best Burlesque Group. Watching these boys shed their polyester marching band uniforms could easily be the highlight of the Superstars show.
Michelle L'amour's Superstars of Burlesque tease the crowd at the Park West on Friday 16.