Hip-hop, hooray
Beneath the megaclub bling and club-rap hype, there's a homegrown hip-hop party for everyone.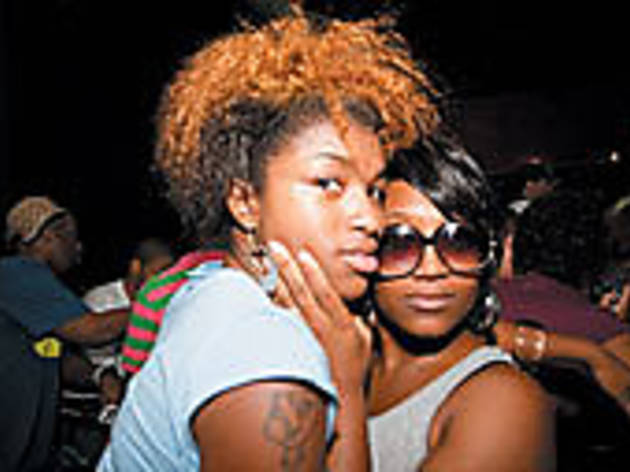 With the likes of Diplo, Yo Majesty, and Flosstradamus setting the tone, blogged-about blends and club rap are staples of hipper North Side dance floors. But not all hip-hop fans are partial to heavily ironic fusion. Sometimes you just want "Can I Kick It?" and deep Dilla cuts. Years ago, Wicker Park's Note gave us a fix of unadulterated hip-hop every Tuesday night. Since then, the options have multiplied. Here are some of our favorite hip-hop DJ nights, live showcases, open mikes and dance parties, all happening this month.
The Analog Addicts crew has spent five years keeping the hip-hop dance party vibe going in Chicago, so it can play whatever it wants. "A lot of DJs think, This is hip-hop, so I've got to play this and this," says Addict DJ MTM (Murry the Magnificent). "But we aren't tied down by that rule. You'll hear house, soul, funk and reggae in our sets. It gives us an added flavor." Keep an eye on listings for one of the crew's sporadic shows at darkroom where a live visual-art element draws the graffiti scenesters and individual sets at Lava and Tini Martini .
Budding producers and MCs show their skills Tuesdays for the Eclectic Rhythms open mike at Mix in Lincoln Park. "It's open to all genres of music: hip-hop, neosoul, R&B and poetry. But 85 percent of artists that perform are hip-hop artists," says Steven Johnson, whose Artesian Productions hosts the show. Hip-hoppers bring their own original tracks and perform two or three songs. Skip the Top 40 and radio rap in the main room and head straight to the smaller back bar to hear raw hip-hop talent and fresh-from-the-laptop rhythms.
Monthly showcase The Analog Playground eschews the stiffness of CD-backed performances. On the last Wednesday of the month at darkroom, Treologic serves as the house band and DJ Chief Rock spins between sets while local talents like Que Billah get on the mike for a crowd that remembers Girbaud jeans. The whole party recalls the Okay Player tour from 2001 when the Roots served as the house band for killer live acts like Slum Village, except it's a more intimate—not to mention free—gig.
Evanston hip-hop heads and North Siders mingle at Morseland's hip-hop–friendly weekly hangs. White Sessions Tuesdays with DJ White Russian take patrons on a chilled-out downtempo hip-hop and funk trip while Sounds Fresh Thursdays are more upbeat. There's no cover for either; just a chill vibe with lots of conscious rap and drink specials. On September 15, there's a special Sounds Fresh with Casual from Oakland, CA, crew Hieroglyphics headlining.
Judging by the success of last month's Uberjam, the hip-hop dance-party format has life in it yet. The next event is September 22 at Subterranean featuring DJ Zebo, DJ Trew and the Comeups (Maker, Intel and Pickel). Here, the playlist is even broader; Zebo brings it for the club- and house-music fans with lots of electronic influences, and Trew offers rare grooves. It might not be pure; rather, it's a chance for trendy hipsters and serious old-school heads to party side by side.
C-Mass's monthly Boom Bap at Sonotheque manages to join club rap, blends and classic hip-hop in a ceremony of holy party matrimony. Guests like Dutch producer Nicolay lay down eclectic hip-hop–centric sets, but it's pretty open-minded. On September 18, Dark Wave Disco's Mark Gertz and Trancid guest. A night of nu-rave and dark electro alongside hip-hop? That's progressive.
Low cover, hosted bar until midnight and soulful sounds from Chicago hip-hop vet Twilite Tone make $10 Holla(Tuesdays at D'Vine) one appropriately titled fete. Tone knows how to keep the crowd happy, throwing in R&B with hip-hop classics for the grown and sexy.