New Web programs and apps enrich music listening.
With Groovebug and Legitmix, interacting with your music takes on a whole new dimension.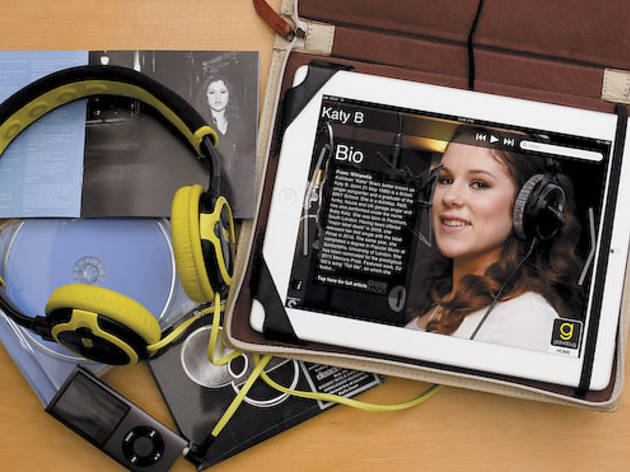 Sure, there's an app for that. But when it comes to Web, smartphone and tablet tools benefiting the DJ world, the app is often crap. Club finders? Yelp already has that covered. An app that makes dubstep bass lines? We prefer Rusko, thanks. But amid the noise, there are some handy and ingenious programs out there. Here are two of them.
Groovebug (free; available in Apple's App Store or at groovebug.com)
A new app for the iPad just launched from Chicago, Groovebug is an aggregator of all things music—and thanks to the tastes of its creators, it has a healthy club-land slant. Like one big fanzine synced to your off-the-wall tastes, Groovebug scans your music library and creates individualized content of your favorite artists, descended from the cloud and organized with an easy-to-navigate interface.
Maybe you've just downloaded "Broken Record" by dubstep pop star Katy B and want to know and hear more. Thanks to partnerships with Wikipedia, iTunes and YouTube, you can surf through her bio info, preview her songs, and ogle official videos, live footage and interviews, collected onto a series of swipeable panels.
This is fun for the casual listener, but Groovebug's fourth panel, the Latest, will turn you into a superfan, ready to tell all your friends about how Katy's favorite old-school hip-hop jam is the Fugees' "How Many Mics." By plucking newsy tidbits from across the Web and compiling them into a convenient list, all the Latest is right there, and you didn't even have to open a new tab. If you still feel like exploring, the last panel's recommendations of similar artists will have you starting the whole experience all over again with, say, "Broken Record" producer Geeneus.
Legitmix (price varies; full catalog available at legitmix.com)
Sampling. It's the thorn in the music industry's side that was officially blasted into the public consciousness when Danger Mouse decided to pit Jay-Z against the Beatles. Seven years—and the entrance of Girl Talk—later, mixing, remixing and mashing up are trendier than ever. It's also harder than ever to release work that borrows from a copyrighted song. Thanks to some tech-savvy thinkers from Canada, DJs, producers and consumers may have their first realistic solution to the dilemma of using someone else's music to make your own.
That solution is Legitmix, a browser-based software application that matches DJ mixes, remixes and mash-ups with the source material used to make them. So if you want to buy a mash-up of Bob Marley's "No Woman No Cry" and Amy Winehouse's "Love Is a Losing Game" on Legitmix (like the one Al Fingers currently has for sale), the software will scan your hard drive for Bob and Amy, plug in the Amy you already have, sell you the missing Bob for $1.29 (plus $1 for Al Fingers's effort) and leave you with a legally purchased MP3. The same can be done with the DJ mixes for sale from label partners Mad Decent and Fool's Gold.
You don't even have to buy the missing source material from Legitmix. Use iTunes or get crafty with Hype Machine if you prefer. Legitmix just puts the pieces together for you. It's a drag that you are limited to what's available through the site—which is pretty sparse currently— but as more artists and labels sign on, it could become an inexpensive win-win for all parties. Unless you're Girl Talk, in which case last year's All Day would cost anywhere from $1 to $479.88, depending on how many of the 372 samples you already own.