Oh my Goth
Dark alternative monthly gathering Nocturna turns 20.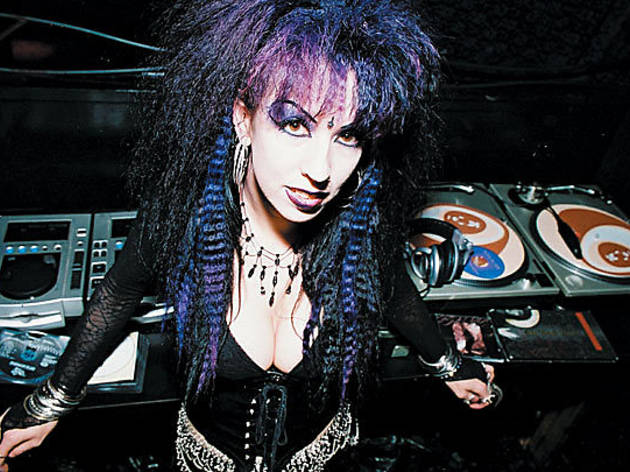 For some of us, our first nightlife experiences were 18-and-up dance parties during the tail end of the new wave era, when venues screened Liquid Sky in the back room and played British post-punk and Siouxsie Sioux on the dance floor. Dark alternative dance nights have been a fixture in the clubs for a quarter-century. And '80s Chicago with its Wax Trax! label was a major hub for the darkest, danciest genre: industrial dance.
Nocturna, the monthly happening for dark alternative dancing in Chicago, celebrates two decades of doom this week with a Friday the 13th party at the Metro. The playlist includes '77 punk, shoegaze, industrial and cabaret—Xmal Deutschland slides up next to Interpol and Alien Sex Fiend with live sets from underground goth-leaning acts breaking things up nicely.
We e-mailed with DJ Scary Lady Sarah—who, despite having relocated to Berlin, remains Nocturna's queen of the damned—to ask her about the state of goth and dark dancing.
Time Out Chicago: How did Nocturna get started?
Scary Lady Sarah: A friend of mine [Tom Ayres] was a DJ at Neo in the late '80s, which is where we met, and he and I both wanted a regular club night in Chicago dedicated to darker music, so we pitched the idea to the club's owners and they gave us every Tuesday night. It remained at Neo every Tuesday for just over nine years, with a couple of rotating DJs at times (myself, Tom and a couple of others), but by the end of its residency there, I was—and remain—the sole DJ/promoter of the event. The event moved to Smart Bar, Bottom Lounge and then Metro, where we are now held one weekend night—usually Saturday—per month.
TOC: How has goth changed—or has it?
Scary Lady Sarah: Goth hasn't changed, but the perception and interpretation of it, especially in the U.S., has. Nowadays the term goth is used to describe a lot of genres of music and fashion styles that are not at all goth. People will incorrectly label EBM [electronic body music], metal and emo as goth, usually if the band members or fans wear a lot of black clothing or heavy eyeliner. Personally, I like many genres of music and find it easier to use the all-encompassing term "dark alternative" in our advertising. I have no problem describing myself as a goth, though, and do often.
TOC: Which is the ultimate goth act? I always think of Bauhaus.
Scary Lady Sarah: Bauhaus is definitely at the top, alongside Siouxsie & the Banshees, Sisters of Mercy, Joy Division and the most commercially successful "goth" band, the Cure. Those are the forerunners, certainly, though the word goth wasn't put on them initially. Goth came into its own as a well-defined genre/label/style in the 1990s, not the 1980s.
TOC: Do goths these days face a lot of misunderstanding? Or do you think people get it?
Scary Lady Sarah: I still get stupid people hurling names at me on the street of the "hey, Elvira" or "yo, Halloween!" variety. So I suppose that's proof of misunderstanding. Though I think the younger people into goth might have it easier than my generation of goths did in the '80s because back then, even the word was unknown. Now there are "goth" characters on prime-time television shows, the word is used to describe some haute couture fashion and, of course, the horrible incident at Columbine brought the term—mistakenly— to every newspaper in the country. I'm goth, but that doesn't sum up my interests.
TOC: The party is 18+; do you get a lot of 18-year-olds?
Scary Lady Sarah: About 25 percent of our crowd is between 18 and 21, and I love them dearly. They are usually the people who dance the most, dress up the most and generally have the most enthusiasm. The age of Nocturna patrons ranges from 18 to 50-something, with the average being between 24 and 28. There are enough of my contemporaries, [who are] 40-ish, who still love the music and come out [so] I don't feel like "grandma goth" amongst the kids. Every age is welcome, as long as you're into the music and have a "live and let live" attitude—not stereotypically goth, is it?
Nocturna turns 20 on Friday 13 at Metro.