Steve Aoki on Wonderland | Interview
International DJ star Steve Aoki talks about his new record and almost breaking his neck.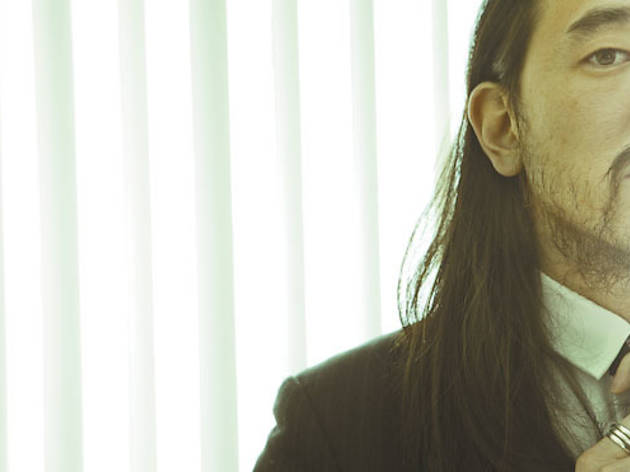 L.A. DJ, producer and label owner Steve Aoki is one of the hardest working men on the electro circuit. The 33-year-old started modestly, promoting punk shows on a shoestring budget some 15 years ago. Since then, he's founded Dim Mak records—where Bloc Party, Bloody Beetroots, the Kills and MSTRKRFT all got their start—and grown into an international DJ superstar with a touring schedule that hovers around 200 gigs a year. With his debut album, Wonderland, due in January and a set at enclave Friday 25, we reached Aoki on Skype in Monaco to try to make sense of this wild ride.
Life sounds hectic these days.
It's been the same type of chaos for the last four years, but more shit's stacked now. The label and the clothing line, those are things that are just constants in my life. The production game, it's definitely, in the last three to four years, been a major priority.
So you're honing the Steve Aoki sound.
Yeah, I'm in two worlds. I write records for the club, and this album that's coming out, Wonderland, is an album where I was really just focusing on writing good songs. That was a completely different take on my production. I've learned so much just in the past year by fine-tuning these records, just so they fit with each different vocalist.
Are there any guests that you're particularly proud of?
It's always really easy to work with Will.i.am. He knows what he loves and he's an incredible songwriter. Working in the studio with [Red]foo from LMFAO was also a huge learning experience. We sat there and discussed ideas of cracking the code of radio for, like, six hours.
You've been deejaying and producing for a number of years, why the wait to tackle your album?
From start to finish this has probably taken me over three years. Last year I thought I was going to release my album. I thought I was there and then I wasn't. It was just like me finishing school. I could have been done in four years but then I was like, fuck it, I'll do five years and get a double major. I used this year to readapt the songs so they became songs of this time.
Women's studies and sociology couldn't be further from dance music. Was there ever a chance of going a different route?
I got accepted to graduate school and I was at a crossroads. At that time, I was not a DJ. And being in a band, especially a hardcore band, you make fucking zero money whatsoever. It was either, let's do this label Dim Mak or go to graduate school for Asian-American empowerment, become a professor, grow my hair really long, live under a lightbulb and write books.
Instead you DJ around the world and ride inflatable rafts over crowds. Why the raft?
I brought it out in Coachella in 2009. It was a success. I got into Rolling Stone—they had a huge picture of me riding my raft. A friend of mine coined it "white raver rafting," after that it stuck, and now I literally do it at every show.
Any brushes with death?
No brushes with death. Yet. The only serious issue is that I've increased the height of my stage dives. So I've done a few balcony dives that have gotten pretty high. There was one where the raft wasn't held properly and I went through it. I almost broke my neck. Now, I definitely have to make sure people are holding the raft properly.
Steve Aoki goes "white raver rafting" at enclave on Friday 25.