Supreme Cuts keeps it chill.
Chicago electronic duo Supreme Cuts are best when not taken too seriously.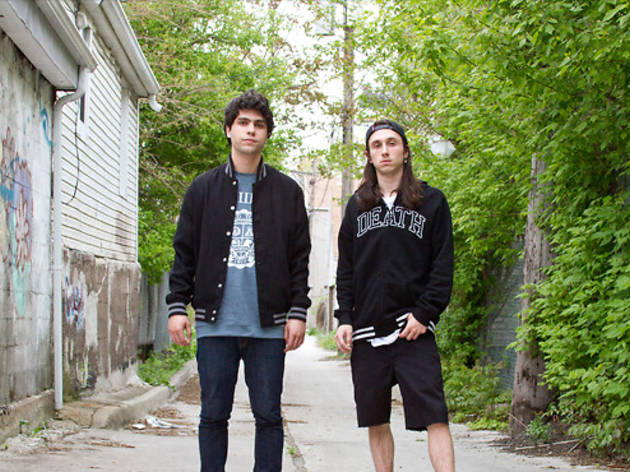 The cover of Chicago electronic duo Supreme Cuts' spacey debut LP, Whispers in the Dark, is a twinkling shot of the star-studded cosmos. But that's not all. Hidden from the unaware, but unmistakable once it's pointed out to you, is a constellation forming Tweety Bird rocking a bandana and baggy jeans. This subtle playfulness goes a long way toward describing the mind-set of production partners Austin Keultjes, 24, and Mike Perry, 23.
"It's a pretty serious record," Perry says over beers at Pilsen dive Skylark. "But we had to offset it with something immature, so it's not like we're sitting there with a black turtleneck on in Berghain or something like that." Dropping a reference to the Berlin techno club—and using it to distinguish themselves from the stereotypical stuffiness of that music—is a perfect example of how these two dudes work.
Over the course of our hour-long chat, Keultjes and Perry become a shared brain with countless cultural references, from the common (The Matrix) to the esoteric (avant-garde ambient composer William Basinski). Most are tools to help the two art-school graduates contextualize their sound.
Bonding over music while frequenting a regular party at the Burlington with Chicago duo Flosstradamus at the helm, the two quickly entered the studio together, their love of hip-hop serving as a mutual springboard. "We follow rap really closely," the more outspoken Keultjes explains. "Being a five-year-old and seeing only Snoop Dogg—that's what my brothers and sisters listened to—it plays the biggest role in our music."
But if hip-hop was the root, too many late nights in a hot-boxed bedroom studio quickly mutated it into something different. Meditatively chill, Whispers in the Dark, which is out now on Dovecote, floats along in an antigravity tank of trap beats, ambient samples—"we're big Eno guys," Keultjes confesses—and chipmunked vocal snippets. Supreme Cuts is hip-hop if it had been born out of the New Age spiritual movement.
Their music seems to be a direct response to the intensity of much of popular electronic music. The sparse sound and relaxed nature of Supreme Cuts' debut have garnered numerous comparisons to producers within the so-called cloud-rap scene, like Clams Casino, who's also defying the current hip-hop and pop norms by producing stark, laid-back fare.
Keultjes says the similarities are more coincidence than anything else. "I think those comparisons will start to die when people hear our mix-tape." With its album out, the duo has been hard at work producing beats for a promo release with Haleek Maul, a rapping teenage prodigy from Barbados, that drops in August. Here, they say, the output is much harder.
With so many influences, it's easy to see why these two won't sit still for long. Name-dropping disparate acts like Janet Jackson, Kompakt Records' Wolfgang Voigt and Philip Glass to describe their tastes, they then explain that the inspiration most central to Whispers is the Gracie Films closing credit at the end of The Simpsons. The "creepy" four-second jingle sparked hours of research into TV stations' late-night sign-offs and a music philosophy they describe as anti-nostalgia.
It may be too half-baked to qualify for an academic dissertation, but the idea helped shape a unique and finely tuned first record, one that is getting its own serious discussion as journalists try to define it. "Future R&B," Perry says, was just thrown out by the pair to get people's attention. Best not to think too hard about it. "There's personal jokes all throughout," Keultjes adds. "It's just how life is. It's a serious universe, but who's to say Tweety isn't in a constellation. Mathematically, he probably is."
Supreme Cuts opens for Gold Panda at Bottom Lounge on Friday 27.