Two Chicago nightlife greats talk fashion.
Marrying their passions, nightlife personalities Lono Brazil and Jessica Gonyea talk about music and fashion.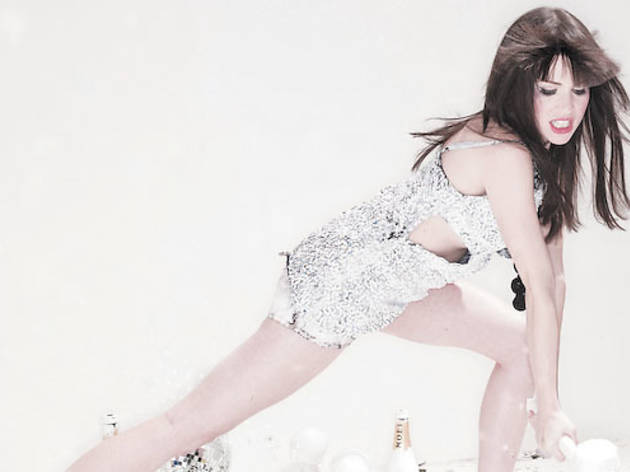 In Chicago, Lono Brazil is best known as the creator of Disco Unusual Social Club. Channeling the early days of DJ culture, DUSC has outgrown the city and travels the globe. Brazil, in his late 40s, is also launching a fledgling clothing line set to launch in 2012.
With countless bookings as Moneypenny, including Lollapalooza, and a stint as the lead singer of Office back in '06 and '07, Jessica Gonyea is, without a doubt, a charismatic frontwoman. But with a background in costume design, the 30-year-old also flexes some serious fashion chops.
We caught up with each of these multi-talented artists by phone to talk about their strides in both worlds.
Tell us about how you bring fashion and music together.
Lono Brazil: Music, art and fashion go hand in hand. That's why I created Disco Unusual Social Club, because I want to tie in fashion with the music. Everything should be tied to lifestyle. If it's not, it has no life. And probably subsequently, it has no style either. [Laughs]
Jessica Gonyea: When you're performing, you should make it an all-around experience. That's why I think Lady Gaga is doing it right. Even if you don't necessarily like the music, you can at least appreciate the showmanship, and a lot of that comes down to clothing. That's what we try to bring into Moneypenny.
Where do you see fashion going this spring?
LB: We'll see less of a plaid-shirt, hipster kind of look and more of an adult, grown-man kind of look. Guys were wearing button-down flannels and looking collegiate and preppy. I think that's given way to allowing these same guys to look a little more refined. I think that's the key.
JG: There's a psychedelic revival in music right now, and fashion is going there as well. You're going to see a lot of patterns and headbands. Hats are getting bigger. It's sort of like a modern goth take on the hippie stuff that comes around every summer.
How would you describe your personal aesthetic?
LB: I'd describe myself as a dandy. I'm your favorite gay guy's straight friend. At the end of the day we're men. I believe after a certain age we need to be taken seriously. Premium denim with a nice shirt and a jacket, that's on point. It's a modern twist on a classic look.
JG: Not a typical, Hot Topic goth. Imagine if your rich grandmother decided she was goth, whatever she would wear.
What can we look forward to from you musically?
LB: With DUSC—even though it became a disco thing—the evolution of it is me putting out a couple of boogie tracks, which is going to cater more to that beat digger who's sick of hip-hop. It's out next month on FM Love, Fresh Meat Records' edit label.
JG: I'm going to be a California girl, so we're doing Moneypenny in a different way. We want to make something uniquely Chicago, something that could have only come out of this environment. We're going to do sort of a Postal Service thing; I'll be going back and forth.