Volatl and Alias Collective up the profile of Chicago house and techno parties
Sky's the limit for Volatl and Alias Collective, two party promoters who have big plans for Chicago nightlife.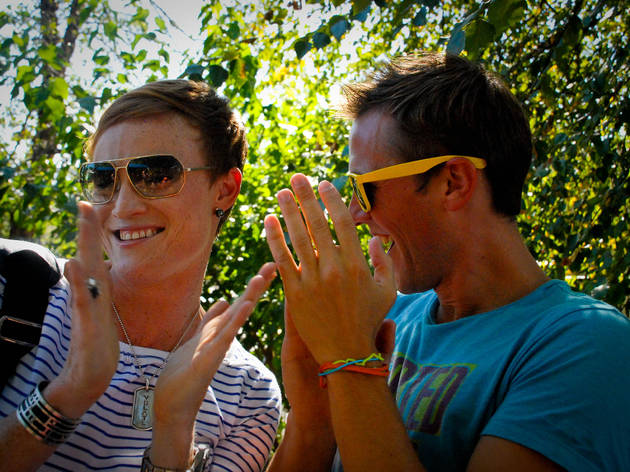 It's not that Chicago doesn't have a vibrant nightlife. The last few months have ushered in multiple new clubs, giving both local and out-of-town talent fresh avenues to keep the city dancing. At the same time, when compared to the rich club scenes in New York or L.A., the ages-old title that has haunted Chicago rises back to the surface: Second City. While the dance-music community has steadily looked to the coastal cultural capitals for emerging sounds and trends, it's been some time since the Windy City commanded that kind of attention.
Area promoters Jonathan Gavenda and Nadia Podolsky, heads of Alias Collective and Volatl, respectively, are setting out to change all this. The two nightlife mavens began teaming up in 2007 to help restore the city's reputation as a dance-music mecca. "What's going on in Chicago right now, there are your standard Friday and Saturday club events with great international headliners and some great locals," says Podolsky. "But really, I think things can be bigger."
During a conference call with the two party gurus—a Chicago native, Gavenda is currently based in San Francisco—Podolsky continues, "We want to bring in the fashion and the glamour that you really see in events in L.A. and New York and have been seeing consistently for 20 to 25 years. For some reason it just seems to not exist here at this point."
Originally from New Orleans, Podolsky, 29, came to Chicago to pursue her master's in history. Any moment she could spare from hitting the books she spent making the trek to Detroit, where she ingrained herself in the city's rich techno scene. She threw her first party there in 2006. Once she got a taste of the party life, there was no going back. The budding auburn-haired promoter closed the books for good and spearheaded Volatl.
Gavenda, also a child of the '80s, had a similar experience. He discovered electronic dance music (EDM) as an undergrad at the University of Illinois, but it was while he was on a work visa in Melbourne, Australia, that it really took hold of his life (although he did finish his degree, in Bioinformatics no less). Returning to Chicago in 2007, he organized his first Varsity All-Stars party at Miami's Winter Music Conference. Given its success, Gavenda brought Varsity All-Stars back to Chicago, throwing the 12-hour marathon DJ get-downs at Moretti's Ristorante a few times a year. It was while launching the party in the city that Gavenda and Podolsky first connected.
They've been working steadily since then, and we can thank Gavenda and Podolsky for DJ sets from a who's who of the world's techno community, including Adultnapper, Carl Craig, Alexi Delano, Richie Hawtin and Swayzak. We can also thank Volatl for the Chicago-centric (re)Chicago events with residents Mazi and Kate Simko.
As of last year, Gavenda's main outlet has become the Alias Collective, with a focus on events of a grander scale. "We're going with bigger production elements, bringing in bigger artists and doing more concept events like our upcoming Superfreq party."
A fresh approach to partying for Chicago, Superfreq was started in 2002 by London DJ Mr. C. Bringing together fashion and nightlife culture, Mr. C is just the sort of collaborator Gavenda and Podolsky crave. The event is set to launch on January 29 at a downtown loft space, with Mr. C headlining.
"I think the good thing about Nadia and myself as event producers is that we're not DJs," Gavenda concludes. "We're not doing this to promote our own DJ-slash-ego career. We don't have just one DJ career in mind, which I think helps with the success of our events. We're inviting others to join in. There are some really good vibes in the city right now and it's time for Chicago to step it up."