Wednesday Night Dance Parties | Preview
Cure your hump days blues at these midweek get downs.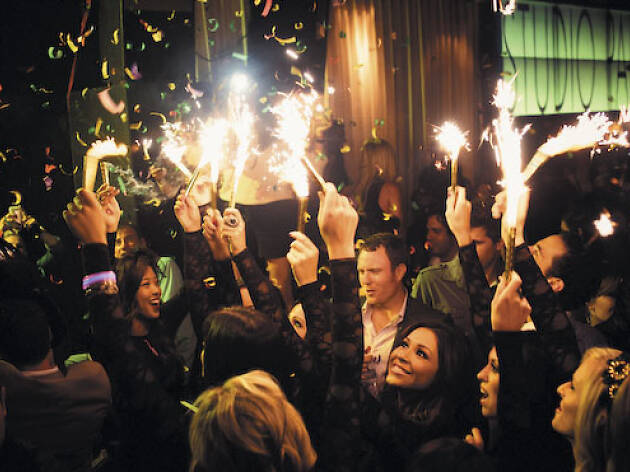 1/3
Photograph: Anjali Pinto
Studio Paris, Studio Sessions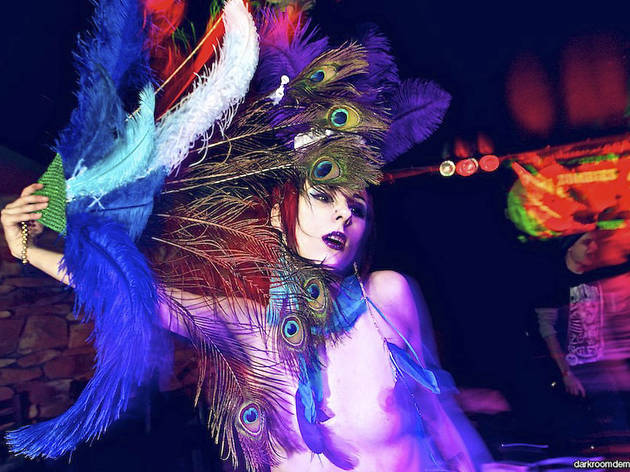 2/3
Photograph: Matthew Reeves
Zombies vs Skeletons at the Cobra Lounge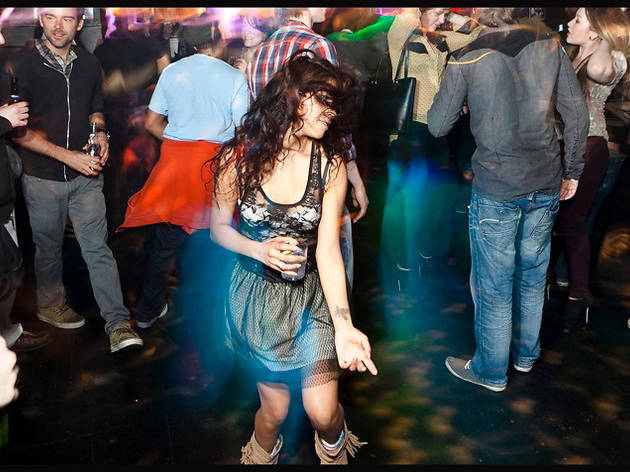 3/3
Photograph: Chris Blaski
Home, Evil Olive
It's Wednesday. The amount of work between you and the weekend is depressing. That doesn't mean you have to succumb to the hump-day blues—quite the opposite. Just about every neighborhood in town has midweek dance parties to help you shake off the stress of your 9 to 5. Here are three of our favorites.
Ego booster
If you've never been to Paris Club's plush upstairs bottle-service lounge, then you've yet to experience the jolt of social accomplishment provided by Studio Paris (59 W Hubbard St, 312-595-0800). Just setting foot in the stark contrast of black walls and cushy white booths, with the retractable glass roof letting in the first cool breeze of summer, is enough to make you feel as if you've jumped a pay grade. Weekends here can be tough to navigate, but its Wednesday-night Studio Sessions are easier to get into—meaning the doormen will let you up without having to sign over your next paycheck—and the atmosphere is just as lively. Downtown jocks like Kalendr and Jordan V keep the tempo up with electro, house, indie-disco and pop remixes, and the sparks atop those magnums of Champagne are no less enticing. More often these days, the star power of the DJs kicks up a notch as well. You never know when Kaskade might stop by.
Studio Sessions is at Paris Club every Wednesday at 9pm. Reservations required. Call ahead or go to parisclubchicago.com.
Free-for-all
Gritty biker bars more your speed? Cobra Lounge (235 N Ashland Ave, 312-226-6300) has always fit that bill, but over the past year or so, it's let the thrashing of dubstep and electro take the place of punk and metal on Wednesdays. Getting its inspiration from similarly macabre sources, Zombies vs Skeletons head-bangs it out under the direction of tatted-up hosts Joe Horror and Johnny Zombo. Going will likely make you feel that the sleeve you just started is inadequate and you need seven more piercings stat, but the vibe—while intimidating at first—is surprisingly welcoming. The front room bustles to the clink of PBR tallboys and the chatter of punky hipsters while the back is a down-and-out rager of loosed inhibitions. The DJs, who switch up weekly and include regulars like PHNM and So (Oh) Six always show off the hardest side of their musical personalities.
Zombies vs Skeletons rages on at Cobra Lounge every Wednesday at 9pm. Free.
Dance mania
Any Wicker Park native will tell you that the spot for a midweek dose of 4/4 beats is Evil Olive (1551 W Division St, 773-235-9100). It has been since it was called Big Whig back in the early '00s. The club's ownership has changed hands and the faces in the DJ booth have evolved, but the steady thump remains. From the look and sound of things, these days it may be stronger than ever thanks to internationally recognized spinner Gene Farris, promotions engine Swing Shift and the cast that this pairing brings to its weekly Home party. In the past month alone it's seen sets from hotshots like Stacy Kidd, Glenn Underground, Boo Williams and Derrick Carter—a list that reads like a who's who of Chicago house music—and you can often find yourself ordering another drink side-by-side with these luminaries before they step up to the booth and you step out under that larger-than-life disco ball.
Home goes late into the night at Evil Olive on Wednesdays at 11pm. $5.