Bronze ambition
South Side stand-up Brian Babylon has a dream for local comedy.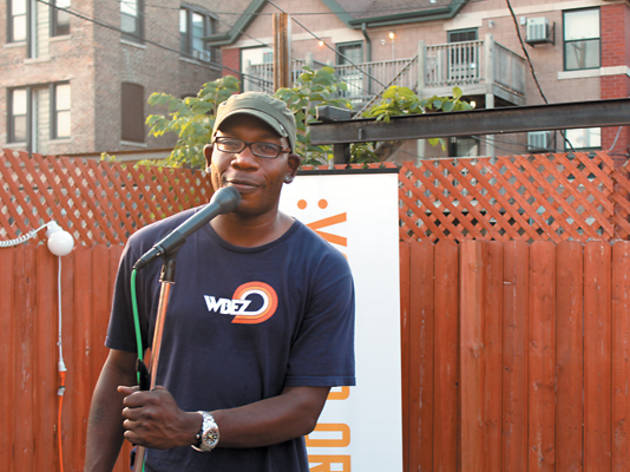 Brian Babylon didn't know he wanted to be a comic until Jokes & Notes comedy club was built in 2006—across the street from his house. "They said they were building a comedy club at King Drive and 47th. I was like, really? That was the signal that I had to do stand-up comedy," the Bronzeville resident says.
Raised in south suburban Matteson, Babylon quit high-school basketball and joined the speech team; he went to state with an original comedy routine. After studying mass communications at Clark Atlanta University in Georgia, he returned to Chicago for an IT position at SoftSheen-Carson hair-care company. He then worked in multimedia at United Airlines but was laid off after the company filed for bankruptcy in 2002; his sweet severance package included five years of free air travel. Babylon used that perk to dabble in stand-up and event production. "I had enough cash, and I could fly anywhere in the world. It allowed me to have this creative freedom that I wouldn't have if I were stuck in a regular job." One night in 2005, he was hanging out with Rob Belushi at Gladys' Comedy Room in Times Square when he decided on the surname Babylon, a persona he's meticulously crafted ever since. "Brian Babylon was a creation I made, and comedy is the vehicle," he says. "I do it for the art of it because I'm an artist, but that's only 50 percent of it. I'm a businessman."
Babylon's business savvy is evident in his comedy. While most North Side comics target their jokes to white crowds and most South Side comics do the same for black audiences, Babylon aims to please all. "I try and do a set that, if cleaned up, I could do on Leno or Letterman," he says. In one bit, he imagines Barack Obama and Martin Luther King as roommates arguing over the cable bill (Babylon does spot-on impressions of both). In another, he teases both races: "White people misuse the term ghetto. White people will say, 'I was late to work. That's so ghetto.' That ain't ghetto. Finding a roach in your mousetrap, that's ghetto."
Every summer, Babylon runs the terrific Bronzeville Coffee House Comedy Show (BCCS), which is presented by Vocalo.org, a Chicago Public Radio offshoot where Babylon will host a morning talk show called The Morning Amp beginning August 22. Now in its fourth year, the room has been alfresco for the past two seasons. It's a smashing success: On our most recent visit, the BYOB night of jokes was packed with locals, North Side hipsters and neighborhood kids. Some were crammed in the doorway; others listened from outside the patio's fence. "It's recession proof and free and in an entertainment desert," Babylon says. "You'll see comics that you'll see on HBO or Jay Leno, like Mike Palascak. People are talking about this coast-to-coast, and it's in an alley."
On Thursday 22, Babylon's newest endeavor, the Chicago Comedy Challenge, debuts at Jokes & Notes. Ten comedians from the city's South, North and West Sides will compete monthly for a slot at either Jokes & Notes or Red Bar Comedy Club downtown. A winner will be named at each show.
"My goal is to bring this hypersegregated city together," Babylon says. "I'm the Martin Luther King of comedy in Chicago." While he doesn't speculate how well other South Side comics might play up North, he says North Side comics such as the gangly, keyboard-toting Chris Condren or the strange and bawdy Puterbaugh Sisters have killed at BCCS. "You can't come with too much urban, and you can't come with too much hipsterness. You've got to ride that sweet spot of things that people know what the fuck you're talking about."
The Chicago Comedy Challenge debuts Thursday 22.