Emily Meador opens the Laugh Factory
Chicago native Emily Meador brings a new club to her hometown.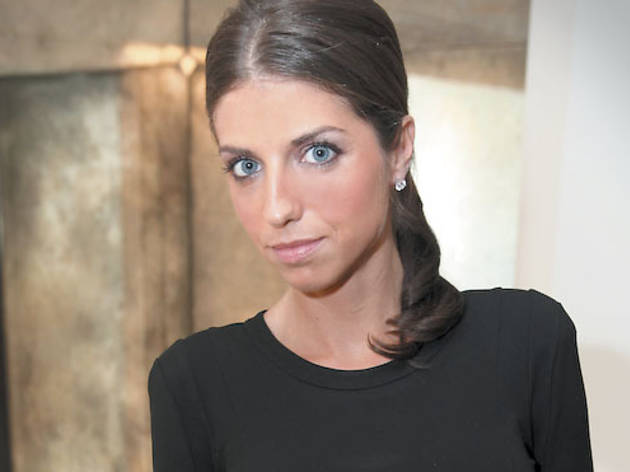 "Excuse my language," says Emily Meador after dropping an f-bomb over lunch. "I talk like a sailor." The expletive in question refers to the caliber of local stand-up talent Meador has been scouting around town. "I've recently been going to the underground clubs, and there's some good fucking comics in Chicago."
Meador, the head of development for the Laugh Factory, an established brand of comedy clubs with locations in Los Angeles and Long Beach, is in town to oversee the opening of its new Chicago location in the space where the much-ballyhooed Lakeshore Theater now rests in peace. We agree to meet at Harry Caray's in River North, but before my recorder is even rolling, we get a visit from Cubs legend Ernie Banks. Meador kindly invites him to the Laugh Factory's opening night but is unable to offer either Banks or myself more specifics. While the venue is scheduled for an "end of June" opening, no date or headliners have yet been announced.
The Laugh Factory has solid roots. The Hollywood location was opened in 1979 by founder and owner Jamie Masada, who was just 16 at the time. Richard Pryor was its first headliner, and he famously gave Masada a break by writing him a $100 check after the show. Since that time, the two venues have hosted Steve Martin, Dave Chappelle, Robin Williams and countless others. Meador is in charge of packaging, pitching and facilitating TV shows and feature films associated with the brand. She's also leading its current expansion into the Chicago market.
Meador is a Chicago native, although you wouldn't guess it by looking. She has the slim build and sun-kissed tan of a true Angeleno, and at steak-obsessed Harry Caray's, orders a salad. Yet she was born and raised in Lake Forest and worked in event planning and PR at DePaul University before leaving the city in 2007 for bigger opportunities in the City of Angels. That year, she made up her mind to work at the Laugh Factory. "I was determined, come hell or high water, that I was going to work with Jamie, and started with moving glasses and picking up napkins," she says. "I went from literally cleaning up the club to being an intern to working with marketing and management."
It was Meador who urged Masada to consider a Chicago location well before the Lakeshore closed its doors in April 2010. "I said, 'I'm from there, I know the city like the back of my hand and I love the city,' " she tells me while adamantly tapping her finger on our table. "It's one of the greatest cities for comedy, and there's no reason why we shouldn't be in Chicago. He said, 'Okay.' "
Although a stroll by the space reveals very little, Meador says a $5 million renovation is under way. According to her, the inclined ground floor has been leveled, and bistro tables will take the place of the old auditorium seating. A U-shaped mezzanine will hover above the main floor and will include VIP booths. Meanwhile, the bar has been expanded and food service is being negotiated with local restaurants. "My general contractor and the construction team refer to me as Martha Stewart," Meador says, "because I'm so consumed and fixated on making sure everything is aesthetically cool and comfortable and new and interesting."
Programming-wise, Laugh Factory Chicago will look a lot like its West Coast counterparts, with local talent filling up the midweek slots while weekends will cater to headliners. "At the end of the day," Meador says, "it really is about the comedians and it's about providing them an audience and a stage and a microphone." When the Laugh Factory does open its doors in Chicago, let's hope that many of the comedians Meador provides a platform for are Chicago-based.
The Laugh Factory opens early summer. For more information, visit laughfactory.com.