H. Jon Benjamin talks Archer
We talk to the voice behind Archer on FX's animated hit series.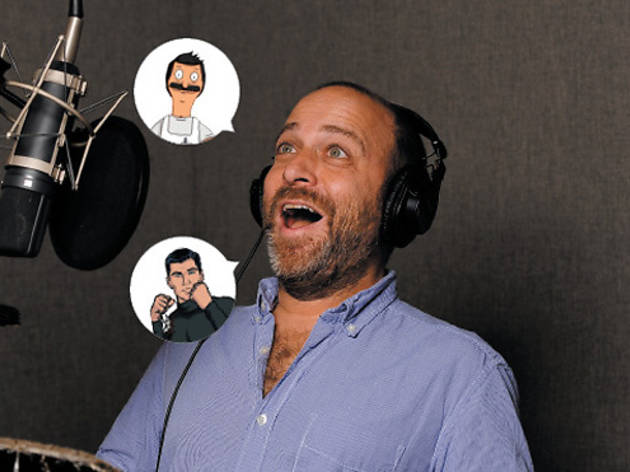 Because it happens so infrequently, writer, producer, comedian and voice actor H. Jon Benjamin can recall with ease the last time he was recognized in public. It was at a bike shop in New York where he was looking for a new seat, because his had been stolen, and a kid who worked at the shop asked him if he was H. Jon Benjamin. "I was like, yeah." says Benjamin. "It was very anti-climactic. He didn't even give me a discount."
It's true that Benjamin isn't exactly a household name, although lately, he's been something of a household voice. Benjamin had his voice-acting breakthrough when he was cast as John, the son on Dr. Katz, Professional Therapist, an animated series that ran on Comedy Central during the mid-'90s. Since that time he's worked regularly as a voice actor, including stints on The Venture Bros., Family Guy, Aqua Teen Hunger Force, Upright Citizens Brigade and the film Wet Hot American Summer. He currently lends his voice to the title character on two animated series: Fox's Bob's Burgers, and FX's surprise hit Archer, a sly and R-rated spy parody which also features Arrested Development alums Jessica Walters and Judy Greer, plus Chris Parnell (SNL, 30 Rock) and Aisha Tyler (Friends).
Benjamin, 44, grew up in Worchester (pronounced Wuss-ta), Massachusetts, a town about an hour west of Boston that's heavy with the New England accent, although he has none of it. While his father is a Boston native and his mother hails from New York, says Benjamin, "I think the combination made a mutation where I talk normal. I didn't go to finishing school or that kind of montage." He did, however, go to graduate school at Northwestern, at least for a while. Benjamin came to the Midwest to pursue an advanced degree in History, but dropped out to move to Boston and try his hand at comedy (And while he never dipped his toe into Chicago's sketch and improv scene, he has since met and has become a frequent collaborator with Jon Glaser, an ensemble member in the Second City's seminal Mainstage revue Pinata Full of Bees).
In Boston, Benjamin was part of a stand-up act with fellow comic Sam Seder and also played in a sketch group. When neither of those panned out, fellow comedian Jonathan Katz cast him on Katz. "It was sort of a trial by fire," he says, "but there was no fire. Tom Snyder, the guy who owned the animation house, we recorded it in his pantry off of his kitchen where he built a little sound studio with a microphone. There was absolutely no essence of the show business industry at all."
Benjamin says that if his experience on Katz taught him anything, it was to do what came naturally; that works on Archer. Benjamin's voice, crisp, droll and cadent, fits sarcastic, womanizing and hapless secret agent Sterling Archer like a glove. Unlike Don Adams, who used his distinctive voice to lend pseudo-gravitas to his spy characters on Get Smart and Inspector Gadget, Benjamin plays it totally laid back, whether he's fending off Russian spies, trading barbs with his horny boss and mother Mallory (Walters) or trying to get back in the sack with his ex-girlfriend and fellow secret agent Lana (Tyler). "It's a very easy process," says Benjamin. "Everything seems to click for that show, which is great."
This summer, viewers will meet the real Benjamin when his new live-action series Jon Benjamin Has a Van debuts on Comedy Central. Benjamin plays a roaming reporter who travels to different places conducting human interest stories that devolve into a comedy of errors. He calls the show a van-venture and admits it's much more time consuming than voice work. "Its hard for me to have to focus on something for like five days a week," he says. "Voice work is really the perfect schedule for me. You really don't work hard."
Archer season two currently airs on FX.