High concept improv shows
Do increasingly complicated improv shows offer bigger laughs?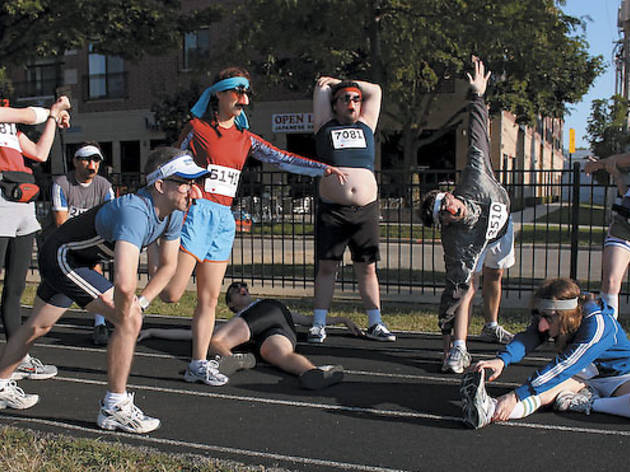 The announcement of Playground Theater troupe K.C. Redheart's new improvised play-within-a-play Process made me consider the merits, from an audience standpoint, of the complex and sometimes highbrow forms created to lure in new audiences. I checked out a bunch to determine which ones are worth your time and dough.
Close Quarters at iO
Concept This 1997 long-form remount takes a single narrative and creates scenes taking place within a truncated time span. A verbal cue, announced in the first scene, repeats in subsequent scenes as a signal to both ensemble and audience members that scenes are happening virtually simultaneously.
Execution On an early 2009 visit, ensemble members stumbled as a group of outdoor concertgoers, but they were in fantastic shape several weeks ago as they imagined the Thanksgiving dinner from hell. Watching this cast shape-shift into different family members while maintaining integrity to story line was awe-inspiring.
Verdict It closes soon. Go see it now.
Close Quarters plays Wednesdays at the iO Del Close Theater through March 30.
pHlip Cup at Studio BE
Concept Each week, a different house team hits the stage already in character and performs a series of scenes that lead them to a competitive game of flip cup against the audience.
Execution The week I checked out the show, the Malzheimers, a team portraying nursing-home residents, offered a hilarious and lightweight penetration of the senior psyche, including pill addiction, 3pm dinners and the love that dare not speak its name. These guys not only made senility hysterical but completely justified their journey to the flip-cup finals (and whipped the audience in the actual tournament).
Verdict The midnight time slot is doing this show a disservice. I laughed very, very hard and wished a room full of people were laughing with me.
pHlip Cup has an ongoing run every Friday at midnight at Studio BE.
Process at the Playground
Concept Troupe K.C. Redheart takes a single audience suggestion and turns it into the title of an unwritten play, which it then performs via three separate scenes: the table read, the dress rehearsal and the final scene on opening night.
Execution Redheart has taken a difficult concept and turned it into a wild, Guffman-esque ride. From the anti-Semitic ingenue to the fey gay theater queen, every stereotype was in place, and these energetic wackos took every obstacle placed in front of them—including having to start scenes over from the top to please a demanding director and incorporating an accidental audience walk-through into the story line—and managed to up the stakes at every turn, making the show funnier and funnier until it reached an absurd climax.
Verdict Improv this good can't help but put a smile on your face. Go see this show and cross your fingers they're having an on night. I'll go with you.
Process plays Saturdays at 8pm through March 26.
200 Funny Things at Collaboraction Theater Company
Concept A group of improvisers aims to elicit 200 laughs from its audience in 45 minutes or less. A laugh manager keeps track of chuckles and guffaws via a clicker.
Execution The ensemble of seven sought laughter not through traditional scenes but via wild contortions, jibberish talk and outlandish facial expressions. It reminded me of the kind of exercises performed in acting class, and about half the audience seemed to enjoy themselves and helped deliver 200 laughs in less than the allotted time. The rest of us sat stone-faced.
Verdict At one point during the show, a little boy sitting next to me looked at me with a wide grin as if to say, "Isn't this amazing?" It was then that I realized my inner child has died.
200 Funny Things plays Saturdays at Collaboraction Theater through March 26.