Horror-themed comedy shows
Take a scary and hilarious look at the new shows.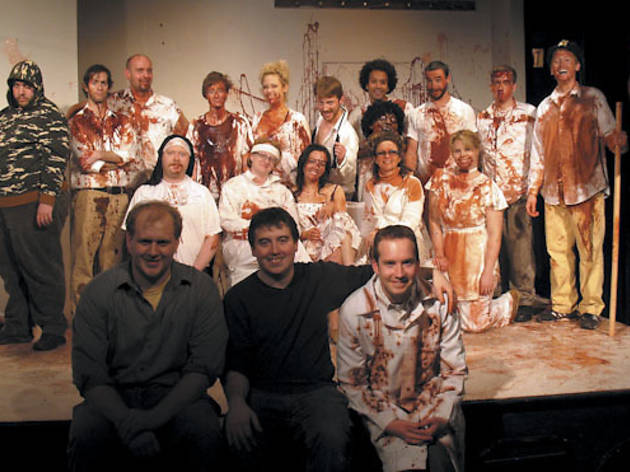 All That Jaws
Everyone's favorite gilled monster lives again to terrorize the inhabitants of the island of Amity, but this time with a little song and dance thrown in (if only Roy Scheider could've lived to see the day). We're excited because the talent from local faves like the Cupid Players and Jersey Shore: The Musical are behind this one. Says co-creator Logan Dean: "[It's] a wild romp in the style of Rocky Horror and Spamalot [and] both a loving tribute and skewering parody of the classic film. The production features…a number of get-stuck-in-your head musical numbers and a custom-built, man-size shark costume." Opens Oct 19 at Theater Wit, theaterwit.org.
Boobs of the Dead: A Walking Dead Burlesque
If you've been following Gorilla Tango Burlesque's latest G-string of action, fantasy and horror parodies (A Nude Hope: A Star Wars Burlesque, Holy Bouncing Boobies!: A Batman Burlesque), you knew it was only a matter of time before it dressed up AMC's herd of zombies in pasties and sent them satirically in search of naked flesh to chew on. Says show choreographer Erica Reid, "Zombies typically are pretty gross and scary, but in our show, the more infected they become, the sexier they get. Our zombies hypnotize their prey with twirling tassel pasties, and we use boas instead of chains to keep them in captivity." Opens Fri 5 at Gorilla Tango Theatre, gorillatango.com.
Scarrie the Musical
Mom's a religious zealot, and everyone at high school is either a jerk-wad or a total bitch. What's a misfit clairvoyant to do? Exact revenge and break into song, of course! Hell in a Handbag (Sexy Baby, Poseidon! An Upside Down Musical) relaunches its first production just in time for the company's tenth anniversary. "This is the third Scarrie, and each time I forget how stressful that frigging prom scene is," says creator David Cerda, who won't be using fake blood this time around because the cleanup at Mary's Attic would take too long. "When we finally put the design elements in action, you just hold your breath and hope for the best, and pray." Now playing at Mary's Attic, handbagproductions.org.
Splatter Theater
The slasher genre mash-up that started the Annoyance 25 years ago celebrates its silver with another blood-soaked remount. Says managing director Tyler Wolff-Ormes, "There is a scene in Splatter in which a character is disemboweled. The intestines that are pulled out are real intestines. We have been bringing chocolate (or butterscotch) pudding to a particular butcher shop in Chicago for 25 years and they fill the intestines with pudding." Opens Sat 6 at the Annoyance Theatre, annoyanceproductions.com.
Troll the Sequel, Troll Again!
CIC founder Angie McMahon retools Troll 2, a film that bears no connection to its predecessor, instead focusing on a family stranded in a town inhabited by goblins disguised as humans. It has been called the worst movie ever. "The Italian director had very little concept of the English language," McMahon says. "He also had no idea that teenage boys in America don't spoon naked while talking about girls. We have gotten the Music Box to be our popcorn sponsor for a wonderful not-to-be-missed scene from the movie." Opens Oct 18 at Chemically Imbalanced Comedy, cicomedy.com.
Zombie Genius
The apocalypse has happened and guess what?! We won! This new Halloween comedy (and love story) imagines a world in which zombies live among us as second-class citizens. "I had the idea of wanting to see what would happen if a zombie fell in love with a human," creator Ryan McDermott says. "At its core, Zombie Genius is a love story…a zomb-com, if you will." Opens Wed 10 at the Annoyance.