Heads up! We're working hard to be accurate – but these are unusual times, so please always check before heading out.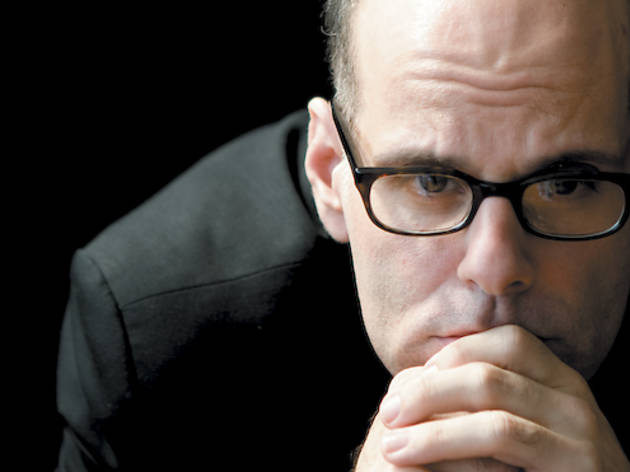 Improv nerd
A new, live talk show and podcast debuts.
Chicago improviser Jimmy Carrane remembers a scene he performed two decades ago under the watchful eye of improv guru Del Close and above the old Ann Sather on Belmont, in the former iO classroom. His scene partner was Dave Koechner (Anchorman, Talladega Nights). "Del was very intimidating," Carrane says. "I wanted to impress him. We did this scene, [where] either I was looking in the sun or [Koechner] was and I just remember we would go back and forth, and every time we said a line we got a laugh. That was a great time." Clicking with a scene partner, impressing a legend and cracking up a captive audience. These are the kinds of stories improvisers love to tell, and they will have the opportunity to do so every week with the launch of Improv Nerd, a new live talk show and podcast hosted by Carrane and debuting Sunday 18 at Stage 773.
Carrane may be well-suited to the task. Born and raised in tony Kenilworth, he was an aimless class clown who graduated high school in 1982 and skipped college, instead finding a home at the Players Workshop at Second City. "I realized everything that I wasn't rewarded for as class clown, I was being rewarded for onstage with improvisation," he says. "I really felt like I'd come home and found my people." Since then, he's pumped his improv prowess up with greats like Chris Farley and Mike Meyers, and as a founding member of the Armando Diaz Experience at iO, and currently plays with Burning Desires at the Playground while teaching the Art of Slow Comedy at Stage 773. (He also nabbed a part as a newspaper editor in Playboy Club.) "I've been doing improv for 20 years," he says. "I love talking about improv, I love doing improv; basically I'm a nerd."
Starting in the mid-aughties, Carrane played a regular Joe on "Studio 312," a segment he hosted for a half-decade on NPR's Eight Forty-Eight until it ended in December 2009. That gave him the chance to flex newfound interviewing skills on the likes of Conan O'Brien, Jeff Garlin and Shelley Berman, a talent he'll employ on Improv Nerd. "My whole strategy was to make these guys have so much fun that you'd get them drunk on playing, and when it came time for the harder questions, they would just say anything because they were having a good time."
Nerd's format will combine Carrane's passion for interviewing and improv. He'll open with a short monologue followed by an in-depth conversation with a local legend like TJ Jagodowski, Susan Messing, Jet Eveleth or Cook County Social Club (some national names are also being floated). The conversation will become the basis for a 20-minute improv scene followed by a discussion of the process that drove the scene. It will end with a Q&A session. Carrane hopes the show will have the probing quality of Marc Maron's much-lauded podcast WTF, which he says should be easy given the long histories he shares with many of his guests-to-be.
This brings Carrane to the engine that will drive the show, a piece of advice Close preached to students like Carrane. "The thing Del instilled was this truth in comedy," he says. "You can take a story from your life and tell it onstage and not fabricate it at all and get laughs. That was huge to me."
Improv Nerd debuts Sunday 18.