In smarm's way
Comedian Nick Thune rolls with the punches.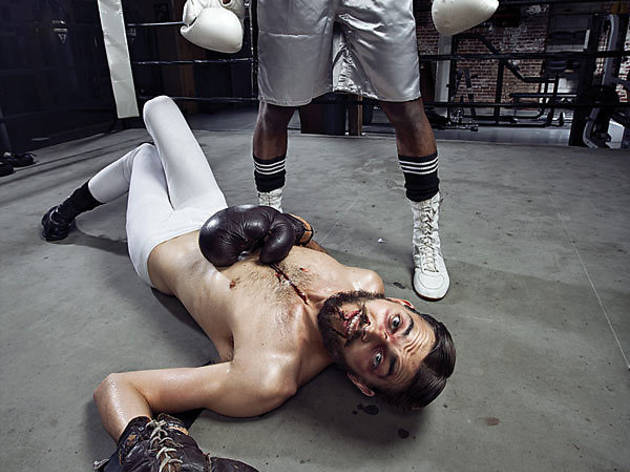 If comedy comes from pain, Nick Thune is a prizefighter. When he was 17, his parents locked him up at a rehab center in suburban Seattle so he could sort through his alcohol and substance-abuse problems. Later, he was sent to a psychologist for his bad habit of lying and manipulation. In rehab, he charmed the socks off his fellow addicts. "You're constantly in classrooms with people talking about their problems, so when you get an opportunity to share, that's how I'd try and get laughs."
More than a decade later, the substance-abuse problems are long behind him; the art of chicanery, however, lives on. Only lately, Thune uses his charming personality and chill swagger to garner laughs, including on the Web-based Comedy Central series Nick's Big Show, a new CD/DVD stand-up and short-film compilation Thick Noon and an upcoming stand-up appearance Friday 19 and Saturday 20 at the Lakeshore Theater.
Thune, 30, was raised in Redmond, Washington, a Seattle suburb and home to Microsoft. "It was weird coming from a place where everybody went a pretty traditional route," he says. "My sister's a teacher, my brother's a cop. I basically took a left turn and just started driving." The open-road metaphor has stayed with Thune over the years as he honed his craft at bat and bar mitzvahs, on mission trips with his church in the Philippines and more recently at local clubs, first in Seattle for six years after high school and currently in Los Angeles. "I try and take people down a road they're familiar with and then put a roadblock in it and have them learn a new shortcut," he says. "I always use directions as a way to write jokes. It's like driving to someone's house. I'm always looking for a new way to do it, and I always enjoy the ride there."
A self-described devotee of Chevy Chase, Steve Martin, Martin Mull and the late Mitch Hedberg, Thune's own stage persona embodies the smarm of Martin and the laconic wordplay of Steven Wright. For example: "Recently my roommate walked in on me while I was masturbating," says Thune with a wry smile as he gently strums his guitar (which he uses for background music). "I'm sorry, I said that wrong. Let me rephrase that. Recently I walked in on my roommate while I was masturbating." And in another instance: "I'm not going to lie, I love taking pictures of people with my cell phone. There's no camera on it, but most people don't know that. It's usually 45 seconds of awkward posing for pictures, while I check text messages."
In Thune's comedy, the arrow always points at one person in particular: himself. "I think poking fun at myself is the best," Thune says. "I feel like I'm constantly fighting with the fact that I'm this tall, kind of slender guy onstage. I use that as much as I can." In Nick's Big Show, for example, a 2009 Web-based series underwritten by Comedy Central, Thune stars as a self-absorbed version of himself: a man who's going to change hearts, minds and the world with the ultimate one-man show. It resembles the Christopher Guest oeuvre with its mockumentary style and cast of fellow comics including Jeff Garlin, TJ Miller, Nick Kroll and Kate Micucci poking gentle fun at L.A. stereotypes. "It was probably the most fun days of my past few years not including my marriage," says Thune. But it almost didn't get made. At the last minute, director Ruben Fleischer dropped out to helm Zombieland. "I called these directors who live in Provo, Utah, they're Mormons," he says. "They're just the craziest people I've ever been around in my life. One of them has never had sex and he tells me he thinks vaginas are disgusting, however he's not gay."
With Thick Noon now available in stores, frequent appearances on Leno and more on the way, Thune's good times are just beginning.
Nick Thune charms at the Lakeshore Theater Friday 19 and Saturday 20.