In Sovereign We Trust
A new sketch show takes audiences on a bizarre journey.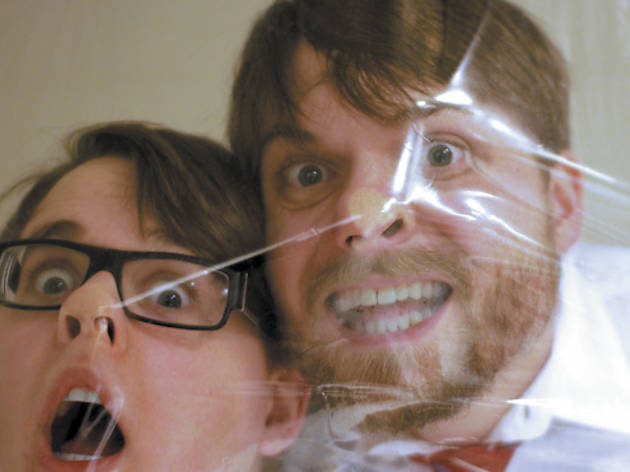 At the Upstairs Gallery performance space in Andersonville, Mike Klasek, Clayton Margeson and I are squeezed into a tiny bathroom. Nobody is here to fix their hair, wash their hands or (mercifully) take a dump. Rather, I'm squatting on the toilet with my recorder in hand while Klasek and Margeson, also known as sketch duo Sovereign, hover over me in three-piece suits because this is where the duo have requested we meet to discuss their latest sketch show, In Sovereign We Trust. Inspired by the immersive runaway hit Sleep No More in New York (which neither have seen), Sovereign's latest holds audiences hostage and forces them out of their seats and on an unwilling journey that upends their expectations of traditional sketch comedy at every unpredictable twist and turn. Their final show happens Friday 8 at CIC.
Klasek, 25, and Margeson, 27, who have collectively trained at iO, Annoyance and the Second City, met several years ago and put up their first show, We Are Sovereign, at the Upstairs Gallery in 2011. "I was so bored with what I was doing onstage," Klasek says. "I had seen [Clayton] do something that he thought was funny and it just completely turned the audience off, but he didn't stop and then they came back around. If he believes in it, he'll keep going, so I was like, perfect." They took the name Sovereign from the David Bowie super-villain character in the Cartoon Network's animated show The Venture Bros.
We Are Sovereign had the duo covering the entire room at the Upstairs Gallery in plastic and spray painting the walls, offering audience members the chance to buy a seat (or suffer the consequences) and assaulting the audience with an arsenal of fake weapons. "There were times when I'd be right up in front of somebody popping a squib on my neck and spraying blood all over the audience like a Gallagher show," Margeson says. "We didn't warn them or anything. People would scream or freak out."
In Sovereign We Trust is a no less strange and wonderful assault on the senses in which Klasek and Margeson, with the aid of a dozen other actors (often masked), stage multiple scenes in multiple rooms simultaneously while an unsuspecting audience wonders what the hell is going on. Sovereign took its idea for the show from Disney theme parks (whose rides, like Pirates of the Caribbean, showcase multiple scenarios unfolding at once) and Sleep No More, in which audiences wander from room to room and get up close and personal with the performance. "If you can just sit in your chair and watch it, what is the difference between that and a video?" Klasek says. "We wanted it to be that you come and see our show and you're in it the whole time whether you want to be or not." The show has almost a dream-like quality to it as Klasek and Margeson act as the show's central characters, performing sketches both hilarious and confounding while wandering the premises in three-piece suits (and sometimes much less).
Crouched on the toilet at Upstairs Gallery, I ask why they chose to conduct our interview in a bathroom. "We either wanted to do something that had zero intimacy or too much intimacy," Klasek says. "We want to maybe do a show here where the audience [is] right up against us because people laugh when they feel safe. So we wanted to see what would happen if we did something that was embarrassing for us."
In Sovereign We Trust isn't safe. Crowds at opening night were delighted but surprised. "We were a little nervous people might try to walk out but no one did," Margeson says. "We were really happy that they got it."
In Sovereign We Trust plays Friday 8 at Chemically Imbalanced Comedy.