Interview: David Koechner
The Anchorman and The Office star brings his live show to Park West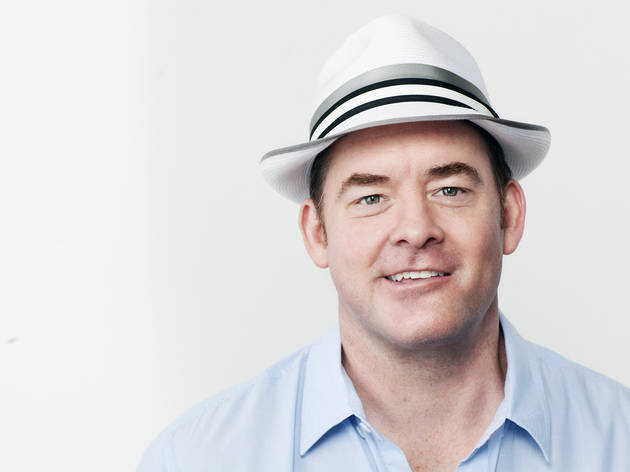 The Office
with two turns as the boorish sportscaster Champ Kind in the
Anchorman
movies.
In real life, Koechner shares a certain kind of jocularity with his most prominent characters—when he calls to talk about his appearance this Friday, April 11 at the
Park West
, he greets me with a songlet using my name as the rhyme. But Koechner's priorities are in a different place, as demonstrated when I ask him about wrapping up his live "tour,"
David Koechner: Together Again
, this weekend.
"You call it a tour so people can get their teeth into something," the 51-year-old says, explaining that he's been heading out from his Los Angeles home only about every other weekend since January. "My wife and I are blessed with five kids, so I've got a lot of responsibilities," he says.
The Missouri native spent several years in Chicago after college, studying and performing at both Second City and iO (in the days when it was still called Improv Olympic).
"We were like a ghost ship, going from place to place to place," he recalls of the pre-Wrigleyville iO. "[Charna Halpern] would have a place for a while, and then move on. I called us Battlestar Galactica. Nothing like that old battleship Second City at North and Wells; they're not going anywhere."
Of his time in Chicago between 1986 and 1995, Koechner recalls spending most of his time at one of those two places, "or dare I say, bars near those place." He had a stint working at the Berghoff, he says, as well as at an off-track betting parlor he remembers as being near State and Jackson. "That was a good gig, because it was three floors of betting and two floors of bars and restaurants. Great place to do character studies, too."
Perhaps some of those characters will show up in Together Again? "It's the toughest thing to describe your act. It's kind of like asking someone to describe their personality," Koechner says, though he promises characters, jokes, stories, and music: "It's a full evening of entertainment, dare I say devastatingly funny. But it's not just traditional stand-up."
Koechner also has a new film out, the mostly well-reviewed indie
Cheap Thrills
, which happens to open at the
Music Box
the day of his Park West show. Koechner and co-stars Ethan Embry, Pat Healy and others involved in the low-budget, high-gore comic thriller have been heavily promoting the film via social media.
"It's a sinister thriller with dark comedic undertones, where sex is always in play. You can't go into it thinking it's a comedy, because it's not. It's really a unique picture. It'll knock your balls off," Koechner tells me, employing a hint of his other screen characters' lack of humility to sell this smaller project he clearly cares about. "I would say this: You see this movie, it's gonna be in your top 20 of all time."
After this weekend, it's back home to Los Angeles, where Koechner is hard at work on a variety show pilot for NBC. He still performs live around L.A. when he can, but a steady TV gig might be more his speed these days, with the kids and all. "It's hard to have that much energy, to be at your son's baseball game at five, get the kids tucked in by nine and be back out the door—that's not my desire."