1/4
Photograph: Shannon Jenkins
Jeff Murdoch, Matt Barats, Megan Johns, Neal Dandade and Jo Scott in Invisible World at the Annoyance Theatre
2/4
Photograph: Shannon Jenkins
Megan Johns, Irene Marquette, Devin Bockrath and Jo Scott in Invisible World at the Annoyance Theatre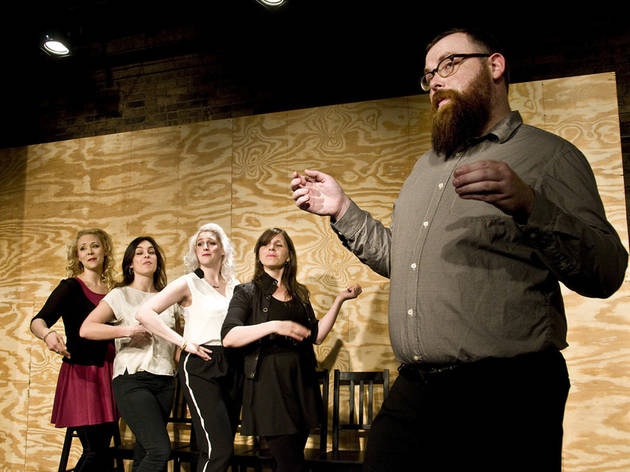 3/4
Photograph: Shannon Jenkins
Megan Johns, Irene Marquette, Devin Bockrath, Jo Scott and Tim Paul in Invisible World at the Annoyance Theatre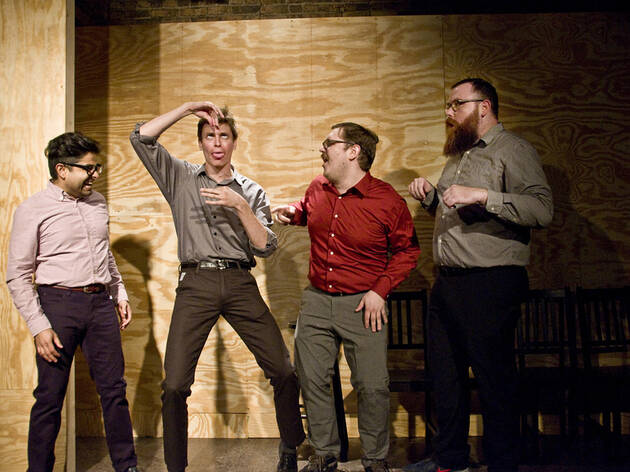 4/4
Photograph: Shannon Jenkins
Neal Dandade, Matt Barats, Jeff Murdoch and Tim Paul in Invisible World at the Annoyance Theatre
The Annoyance Theatre. Directed by Mick Napier. With Matt Barats, Devin Bockrath, Neal Dandade, Megan Johns, Irene Marquette, Jeff Murdoch, Tim Paul, Jo Scott.
Comedy review by Matt Byrne
In conjunction with the grand opening of the Annoyance Theatre's beautiful new space at Belmont Ave and Clark St, founder and creative director Mick Napier has unveiled Invisible World, a filthy, savage celebration of what makes his theater special. An exuberantly weird affair, this sketch show has a sinister streak a mile long, gaily referencing incest, bestiality and infanticide, but rarely coming off as overtly button-pushing or self-consciously outrageous. The Annoyance has long been a haven for the city's darkest, most subversive material, and Invisible World is a fabulous synthesis of many of the theater's core values.

Napier's tremendous skills as a director are well-appreciated around town; he's also behind Depraved New World, the highly praised sketch revue currently occupying Second City's mainstage. While there's no sense in comparing the two, on opening night, glowing like a new father, he mentioned that Invisible World was "closer to what actually makes me laugh." Napier keeps the filth flying at a rapid clip, slowing down just long enough to let the already delightfully twisted scenes take a turn for the even darker.

The show boasts some of the best up-and-comers from Chicago's underground comedy scene, including exceptional performances from Devin Bockrath and Matt Barats, who took turns stealing the show throughout the night. I'm a huge fan of Bockrath, who brings a distinctly Midwestern energy to her twitchy, affably eccentric performance, simultaneously bringing to mind Amy Sedaris and Eric Wareheim. Barats, a lanky, aloof weirdo, anchors many scenes as the closest thing an Annoyance sketch show will have to a straight man, and closes out the first act with a charismatically unpolished performance of the show's titular song.

Barats wasn't the only one offering up raw vocal performances; the always engaging Jo Scott offered up a simple ode to interspecies love, while Jeff Murdoch's self-loathing tribute to self-loathing and loneliness was punctuated by a delightful and surprising instrumental passage. Lisa McQueen's musical direction keeps these deliberately off-kilter songs rooted in the real world, allowing the performances to speak for themselves.

Annoyance veteran Tim Paul is another standout, bringing a friendly-mean twist to characters like an ill-advised roastmaster and a vessel for "too soon" comedic truth bombs. The reliably charming Irene Marquette, the likable-yet-ferocious Megan Johns and the subtly twisted Neal Dandade are less prominently featured in the show, but still find moments to shine in this no filler cast.

Though the Annoyance's new cozy, exposed-brick-and-hardwood space implies a slight turn towards the commercial, fear not. Invisible World is an impressive display of depravity, offering up a clear statement of purpose, dictating exactly what it is that makes the Annoyance an invaluable asset, separating it from other, more tourist-pleasing comedy theaters in the city.