Just for Laughs 2013: Chelsea Peretti review
Chelsea Peretti performs her first of four shows at Just for Laughs 2013.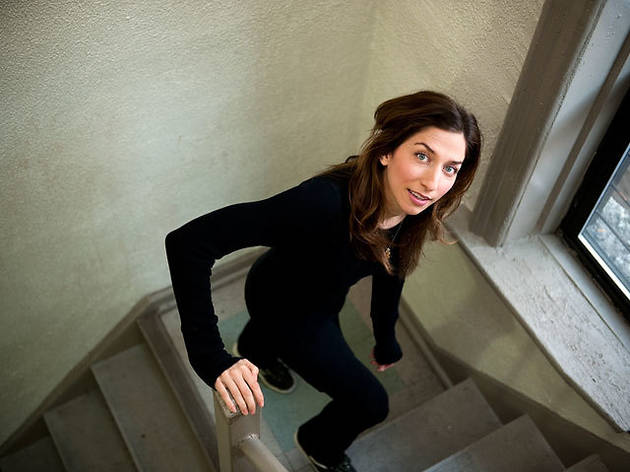 "I already broke one of my goals," Chelsea Peretti said, less than a minute into her set last night at Stage 773. "I wasn't going to move around onstage. I don't wanna get too toned!"
But moving around's part of her thing, and true to form, Peretti paced, crawled, skipped, tiptoed and twirled through her hour-long set. Oh, and humped a stool to demonstrate what male comedians can get away with onstage, including pretending their mic's a dick and tapping it all over the stool. ("Look at my dick! Look at my dick!")
"So I'm working on a bit where I just passively take it from the stool," Peretti said.
A good portion of this, her first of four performances at Just for Laughs (a fest that features only two female headliners this year: Peretti and Maria Bamford), featured hilarious and incisive gender commentary. Dude comedians weren't the only target. She also pondered why women lie about their age. "To me, that is so much effort. It's just not worth it. You actually have to research the music that was popular at a time different than when you were listening to music, so you can be an effective liar." And if that's the case, she said, why not lie more? Like, to the point people wonder if you're immortal. "Walk into a café near your house and just be like [in slightly Southern, old-timey voice], 'My GOD! I haven't been here in seventy years! My, what a trip down memory lane!"
Peretti's jokes that really kill are of this Why-not-up-the-ante? variety. She talked about her social anxiety ("So this is a weird job that I picked," she observed) and how women's magazines will suggest, as a way of breaking the ice at a party, stuff like "Wear a funky necklace!" Peretti's suggestion: Why stop there? Why not walk into a party trailing a dead dog on a leash? That's gonna break the ice way faster.
Another highlight was a bit about how much she hates eating in front of people. "My dream eating scenario is a ditch with a buffet in it. That's how restaurants should be structured, actually. They should just be a jet black room with dirt holes all around the perimeter, and you just jump in there and they fuckin' hurl food down at you. And at the end, they whip a towel down."
Before leaving the stage, Peretti made a point of mentioning that she did not mention her period. In fact, she purposefully avoids the topic, lest anyone—male comedians in particular—whine about it. "But let's be honest. If guys had periods, they would totally talk about it," she said. "They would not be like, 'That's declassé. Not gonna disrespect comedy like that! They'd be all [in an Aziz Ansari-ish voice] I'M BLEEDING OUT MY DIIIICK!!!! Drip! Drop! Drip! Drop!"
Peretti moved a lot last night (girl's gonna be toned), and for almost an entire hour, the audience, to laughs.
Don't miss your chance to see her this weekend.

Chelsea Peretti performs at Stage 773 tonight (8:30pm) and Saturday (7pm and 8:30pm).