Just for Laughs 2013: David Cross and His Super Duper Pals review
David Cross, Paul F. Tompkins, Brian Posehn, Doug Benson and Todd Glass took the Chicago Theatre stage during Just for Laughs Chicago 2013.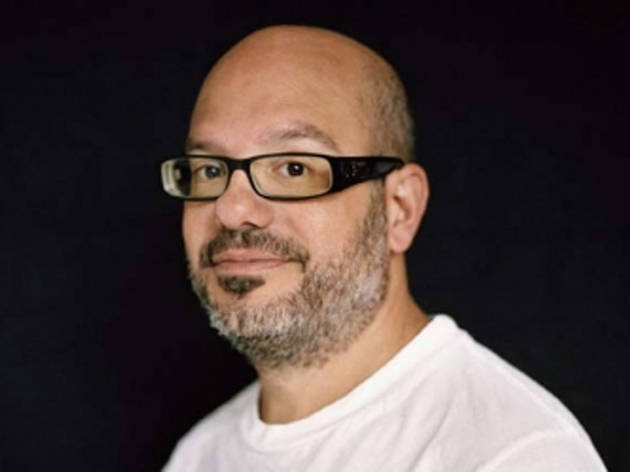 "That's not funny. It's off-putting," said David Cross, pointing at Victor, the cardboard monster mascot of the Just for Laughs fest that lurked on the Chicago Theatre stage Thursday night. "It's leftover from Montreal. That's what Canadians find funny…and warm…and cuddly."

The Mr. Show co-creator and Arrested Development castmember's opening set was nearly apolitical, a far cry from specials like 2010's Bigger and Blackerer and the 2003 tour documentary Let America Laugh, which showed a more bitter Cross delighting in antagonism. (Last year, the 49-year-old married the then-29-year-old actress Amber Tamblyn, which might have something to do with his newfound contentment.) He now seems happy to focus on the traditional comedic preoccupations—the personal and trivial: awkward condom purchases, how LMFAO's "I'm in Miami Bitch" helped him realize he wasn't cool, elaborate drunken masturbation and food. "You know what's weird?" Cross said in his most concise joke. "I hate yogurt-covered raisins, but I love Go-Gurt–covered Craisins." After a serviceable opening set, Cross played host, giving the spotlight to a handful of fellow comedians during an uneven and often underwhelming evening.

Leathery-faced opener Todd Glass pleased the crowd with a safe gag in which he voiced the internal monologue of his treat-crazed dog. He missed the mark with a dated Sham-Wow riff that dragged. (We get it: The infomercial rag wipes up lots of different things.)

Famously stoned guy Doug Benson was…stoned. Yup, the subject of the documentary Super High Me—high as a kite. "This is a job where I get to be high and work, like I am right now," he admitted soon after walking out. If only Benson's baked state didn't translate to half-baked material so enamored with his own inebriation. (After the show, I overheard a man describe the comedian as "that 420 guy.") He also discussed his favorite bad pick-up line: "Excuse me, miss, my penis just died. Do you mind if I bury it in your ass?" To be fair, that one probably leaves the frat boys in stitches at college campus gigs.

The talents of Chicago comedy veteran Dave Pasquesi were mostly wasted on a one-note bit poking fun at improv prompts. Pasquesi and Cross—together forming the duo Chicagotlanta (Cross is from Atlanta)—took crowd-sourced suggestions to absurdly specific lengths. From the seed of a proposed location (the Titanic), the two wanted to know which deck, the time of day, the temperature in degrees Centigrade—and they eventually called for their characters' shoe sizes and health issues (Cross's character had HIV, but was unaware). With audience members yelling out answers, the gag was messy. Instead of two great comedians feigning hack performances, I'd much rather watch them be great comedians.

In a pin-striped jacket, the always smartly-dressed Paul F. Tompkins related an extended story about the peculiarities of his wife's hometown, Sullivan's Island, South Carolina, and his anxious wedding proposal. The richly-detailed anecdote was a refreshing break from the setup-joke slog. Cross followed with his own self-deprecating tale of deferred proposals, before bringing up longtime friend Brian Posehn.

"They saved fatty for last!" the towering, paunchy Mr. Show alum announced with labored breath. "When I was 32, I had the tits of a 14-year-old girl. Now, at 46, I have the tits of a woman who has seen a hard road." He rehashed a joke from Wednesday night's [REDACTED] show in which Cross compares the food at Schwa to "angel's cum," but no one seemed to care, if they were aware.

Posehn being a metalhead, his interest in serial killers wasn't surprising. But he called them "pussies," explaining that most of the famous murderers pick easy targets: prostitutes ("Who's gonna miss 'em?"), children, the decrepit. "If you're going to impress me, budding serial killer in the Chicago Theatre, kill people that are hard to kill—like MMA guys," he said. "Try killing your 86-year-old grandpa who made it through Korea. He hasn't killed anyone for years, but he remembers how to and he's thought about it…a lot. Your fucking grandma has come so close so many times and she has no idea." Going blue, Posehn got the night's biggest laughs.