Heads up! We're working hard to be accurate – but these are unusual times, so please always check before heading out.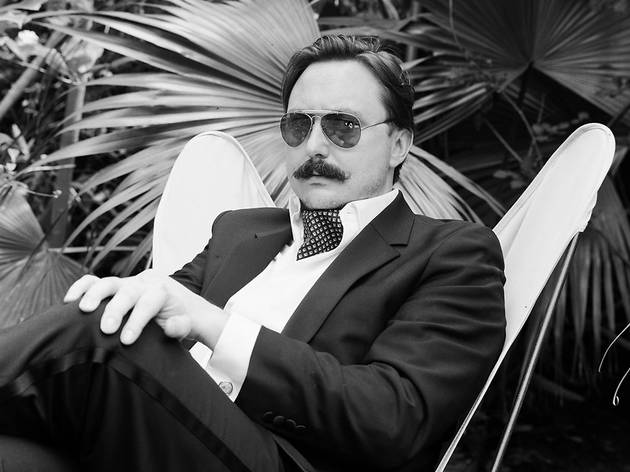 Just for Laughs 2013: John Hodgman review
Ayn Rand makes a special guest appearance at John Hodgman's show.
It's hard to imagine an evening where a ukelele, Ayn Rand and sharing several bottles of Malört with a roomful of strangers comes together, but somehow John Hodgman pulled it off at Park West tonight. Making the most of his time in Chicago during Just for Laughs, Hodgman performed Wednesday night in [Redacted] before headlining his own show/drinking party on Thursday night.
"Those of you who have seen me in Chicago before know that I am the human being who does not hate Malört," Hodgman said before taking a pull from the first of two bottles on stage and then passing it into the audience. "Keep that moving around. Don't try to hide it from me."
While the Malört was circulating through the crowd at Park West, Hodgman addressed his outfit—the jeans and Patagonia jacket a stark contrast to the three-piece suits he usually appears in—and the life/identity crisis he seems to be struggling with right now. "Everything I'm wearing is swag," he said as he peeled back layer after layer to reveal jackets and sweatshirts from movies and various promotions from The Daily Show. Little did the audience know this would not be the last time Hodgman would undress on stage tonight.
After moving through his smart and sharp set, which included referring to his children as cats that he watches Downton Abbey with, Hodgman announced that he had time for one more story before starting to strip down again.
The vision of John Hodgman in Kelly green boxer briefs is one that will surely be burned into my (and I can only imagine the rest of the audience's) mind for quite some time. The scarring visual paid off big when Hodgman put on a deep purple dress and impersonated Ayn Rand as a columnist for Parade magazine, touching on important late '70s/early '80s topics ilke suicide, Fresca, Caddyshack and Charlie's Angels.
The night was winding down, but not before Hodgman played a ukulele rendition of "We're In the Money" only Ayn Rand herself could have matched.