Just for Laughs 2013: Kumail Nanjiani interview
We check in with comedian Kumail Nanjiani, back in Chicago for Just for Laughs.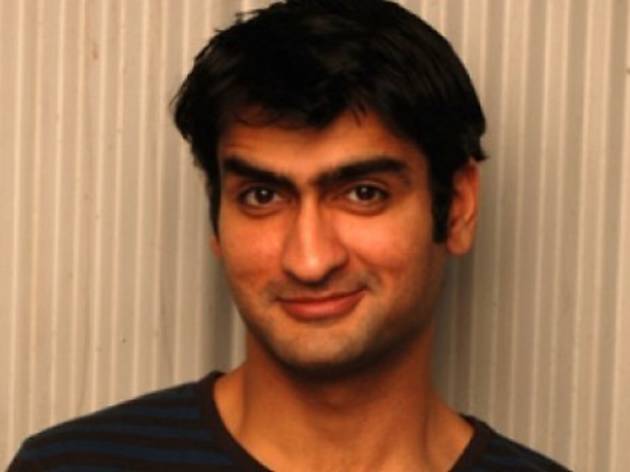 Since leaving Chicago in 2007, Kumail Nanjiani has kept super busy, including appearing in such programs as Portlandia and Burning Love; co-hosting a video game–focused podcast with his wife, Emily Gordon; and hosting The Meltdown, a weekly comedy show (which Gordon produces) in the back of an L.A. comic book store. (If you ever find yourself in SoCal, make sure to check it out. You'll encounter not only a casual vibe but, to put it in Just for Laughs Chicago terms, a [Redacted]-level of talent.) His first hour-long Comedy Central special, Kumail Nanjiani: Beta Male, premieres on July 20. I caught up with Nanjiani during JFL.
You had a great tweet the other day that shows you're familiar with Chicago's erratic weather: "Chicago's motto should be ' forcing the shorts'." Since moving to L.A., do you have a new perspective on our city?
Well, the one thing I talk about a lot is how Chicagoans are like, "It's not that cold." It's really fucking cold a lot of the time! I love Chicago, but that's one thing I don't miss. I got used to the not-winter so quickly.
So California was an easy adjustment?
I moved to New York first and was really apprehensive about moving to L.A., but I really, really like it. All my friends are there: Me, Pete Holmes, Hannibal [Burress], [Matt] Braunger, [Kyle] Kinane, T.J. [Miller]—tons of people.
Do you have a particular TV show you've worked on that you're most proud of?
Well, I'll say what I'm most bummed about: this show, Michael & Michael Have Issues [starring Michael Ian Black and Michael Showalter], which I was really excited about. I was like, "Oh my god! I get to write on this show, I get to act on this show! This is great! This is the rest of my life." And it got canceled after six episodes. But I've been fairly lucky. A lot of the stuff I've been involved with has done well, not because of me, but Portlandia just got seasons four and five, so I get to go back and do that in two months. Jon Krisel, the director, is amazing. Fred and Carrie, obviously everybody knows, but he's the guy behind the camera who's really, really a genius.
How much of Portlandia is improvised?
It's all improv. They give you a couple of lines, but there's no script at all. Just a paragraph explaining the scene. I love it.

Your Comedy Central special airs this summer. And you recorded it last fall?
It was the end of October, so it's been a while. But that's how it is. Sometimes it takes a year for it to come out. It's my first special, or album, so it really was stuff from the past six or seven years. But it was good to get it done and finally move on from that material.
And you're still recording The Indoor Kids, your video game podcast with your wife?
We do it every week for Nerdist. A lot of people who are video game fans come to see my show now, and for many of them, it's their first comedy show.
It's also maybe good for them to get out?
It is! Get some sun, guys! Yeah, so last night, a lot of people came to my show, and they bring [Emily and me] video games I like and have me sign video games.

That's pretty great. Do you have other things coming up that you're especially stoked about?
I'm doing Hot Tub Time Machine 2 right now, so that'll be fun. I have a small part in it. And then Portlandia, and then in the fall, I'm going to go do this HBO show with Mike Judge and T.J. [Miller], who's from Chicago, and Thomas Middleditch, who's from Chicago. A lot of really funny people on that, so I'm super excited.

Nanjiani performs tonight at 10pm at Stage 773.