Just for Laughs 2013: Pete Holmes review
The future TV talk-show host proves adept at working a room.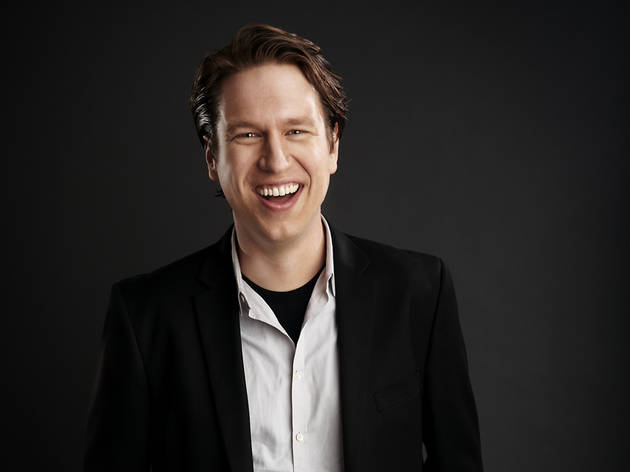 Pete Holmes trades heavily on his "youth pastor" demeanor, and he might have returned to TBS Just for Laughs Chicago 2013 as something of a company man, given his forthcoming Conan O'Brien–produced TBS talk show, set to debut in the post-Conan time slot this fall. Yet while he stuck to his joy-seeking goofball persona in his first of two Tuesday-night sets for JFL, he didn't play it safe.
Holmes proves a master at working a room, getting us on his side early with some nice name-based audience interaction. He plays well with reactions, reading our collective engagement level with an ongoing bit and turning it into an instant amplification, or self-deprecatingly describing himself as he imagines we will to our friends: "He looks like Renee Zellweger with Down syndrome," or "That lesbian Val Kilmer was right!" About ten minutes into his nearly hour-long set, he pulled a move that could read as either shameless pandering or honest working comic: Pulling out his iPhone, Holmes said, "I just realized you're a good crowd, so I'm gonna record this set."
Again showing impressive on-the-fly skill, Holmes got some gold out of acknowledging a 14-year-old boy in the audience who turned out to be a big fan of Holmes's podcast, You Made It Weird. But the comic didn't let the kid's presence keep him from getting a tad blue in a hilarious later story about how bad he is at "sex texting" ("I'm sorry I'm wasting your time by saying both words").
If there's such a thing as anti-sardonic, that's Holmes; he spins stories like resetting his "joy quota" by attending an Enrique Iglesias concert with no trace of irony. He smartly hits the reset button between longer tales with irresistibly goofy bits like an impression of "a rooster possessed by Mrs. Doubtfire" and fan favorite "Pierce," which he closed on thanks to audience requests—noting with some wonder that it's a joke he's been doing since high school, and he can't believe the way it's caught on now. It'll be interesting to see how Holmes catches on as a TV host, but he's remarkably appealing live.
Holmes performs another stand-up set Thursday 13 at 8pm at UP Comedy Club and records a live episode of You Made It Weird Saturday 15 at 7pm at Stage 773.