Lincoln Lodge quickly settles into new Subterranean home
The new Wicker Park address suits the long-running comedy show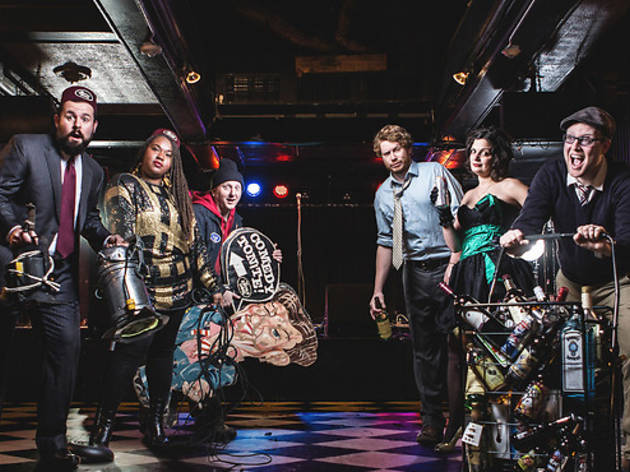 "This is a new era for the Lincoln Lodge," stand-up comedian Ricky Gonzalez announced Friday evening from the small stage in the ground-floor bar of Subterranean. The host's excitement was palpable, but his words were hard to hear, owing to the fact that his microphone wasn't on. The brief technical difficulty was the only apparent hiccup as Lincoln Lodge made a strong debut at its boozy new home.

The venue was packed for comedians Bill Cruz, Alex Stone, the Puterbaugh sisters, Adam Burke and Megan Gailey. As Gonzalez's audience survey attested, the crowd was an even mix of first-timers and regulars to the Chicago comedy institution that was forced to relocate when its greasy-spoon digs of 14 years, Lincoln Restaurant, shuttered in December. As could be expected, the move from North Center to Wicker Park occasioned remarks from a few of the stand-ups lightly mocking the "hip" neighborhood, but offstage, cast members say they sincerely hope the new address, in the center of one of Chicago's busiest nightlife districts, is more of a draw.
The high-traffic intersection of North, Milwaukee and Damen Avenues clearly will improve Lincoln Lodge's live man-on-the-street segment. Cast members recall having to knock on car windows to source subjects outside Lincoln Restaurant. However, on Friday night, as fans exited a Knee Deep/Knuckle Puck concert ending in Subterranean's upstairs main stage, the Putterbaughs had plenty of interview fodder. That the siblings claimed to be from
Vice
magazine surely didn't hurt.
In addition to the Lincoln Lodge showcase on Fridays, Subterranean is now home to the Blackout Diaries on Saturdays. The evening of drinking stories should play better at SubT, one of the cast members says, if only because the nightclub's bartenders are more accustomed to brisk liquor business than those at the Lincoln Restaurant.
While it's easier to get drinks, SubT does have some evident drawbacks as a comedy club. The stage is quite small, just big enough for a stand-up, but a performance by a local sketch trio was, spatially, a bit awkward. The rest of the place is also packed tight, with five rows of chairs, a smattering of tables along the eastern edge of the room and seats around the bar. A hallway abutting the stage that leads to all of the bathrooms is in the sightline of the audience. It's a distraction as people come and go down that hall throughout the show. But luckily none of these problems are deal breakers—and some undoubtedly are kinks yet to be worked out.