Lodged in our memories
A local mecca for alt comedy turns ten.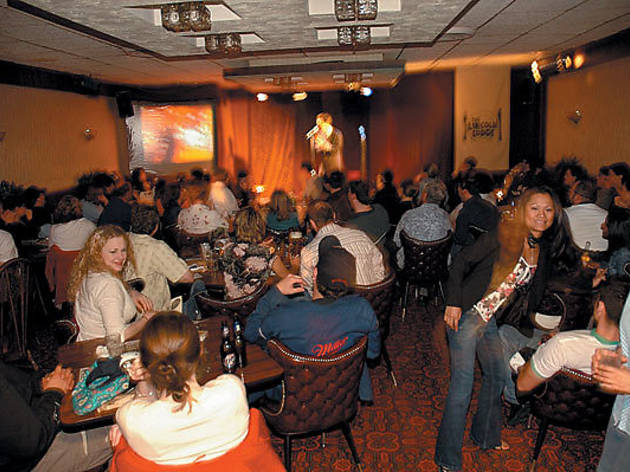 Lincoln Lodge cofounder Mark Geary will always remember the night a drunken Santa burst through the stage curtain and wrestled a singer to the ground. "At that point, I left the room and just sat with my head in my hands wondering what the hell was going to be next," Geary, 41, says. "We realized we'd given artists such free rein that at most of the shows it was just total anarchy." Such were the early days of the Lincoln Lodge, a local temple of avant-garde comedy, music and magic celebrating its tenth year as a showcase for the best and brightest in stand-up. It's been a long journey.
In 1999, comedy impresario Thomas Lawler wanted to create a room that bucked the traditional joke-telling format of seven or eight stand-ups delivering one-liners. At the time, Geary ran an open mike at the now-defunct Lyon's Den on Lincoln Avenue. But Chicago venues were scarce. Aside from Zanies, joke fests were relegated to a now-bygone comedy night called the Elevated, and the also-departed Midnight Bible School at Danny's Skybox. "If you think it's a backwater now, at the time it was nonexistent," Geary says of the scene. "You had Zanies, but that didn't really mesh with the younger, more cutting-edge comedians of Chicago."
Enter the vision of a weekly event where comedy would be the standard but where short films, poetry, live music and man-on-the-street interviews also would find a home. That home turned out to be the Lincoln Restaurant, an aging pancake house at Lincoln and Irving Park Road with an old-timey banquet room boasting wood paneling, Naugahyde, carpeting and room for 80—in short, the coolest cachet of uncool.
While the restaurant's owners were receptive to the idea, it took time for Lawler (who left after the seventh season to pursue creative endeavors) and Geary to fine-tune their new night. "In the early days, we were ecstatic just to get 30 people in there," Geary says. "After a year and a half, we were ready to pack it up and go home." Incidents such as the drunken Santa Claus indicated it was time to rethink. "We had to get a lot more savvy about who we were booking and what our expectations were," Geary says. "Once that piece clicked into place, we increased our audience every year." Smarter booking meant that burgeoning audiences caught local rising-star jokesters such as Fred Armisen, Hannibal Buress, TJ Miller, Kumail Nanjiani and many more for just $10. At the start of its seventh season, the Lincoln Lodge accommodated Friday's masses with an additional show on Thursdays.
"A set at the Lodge is a notch in any local comedian's belt," comic Ken Barnard says. "It's a little bit like the Chicago stand-up equivalent to Carson or Letterman. It's a rite of passage." Lodge cast member Carrie Callahan agrees. "Everyone is weirded out and excited by the fact that this is in the backroom of a restaurant: These weirdos are actually going to do a full comedy show back here."
Now, the Lodge faces competition from Chicago Underground Comedy and the Lakeshore Theater. To remain cutting edge, it recently launched a stand-up school for women taught by Cameron Esposito called the Feminine Comique, and for its tenth anniversary year, a series of headliner shows kicks off October 1 and 2 with Brent Weinbach (Comedy Central) and Rockford's own Natasha Leggero (Chelsea Lately) respectively. "We came along and set the bar for what is acceptable for a showcase," Geary says. "People look to us for the gold standard. At ten years, we're going to bring in people who are just going to blow you away."
The Lincoln Lodge begins its tenth season on October 1.