Nick Offerman
The Parks and Rec star brings his solo show to Just for Laughs.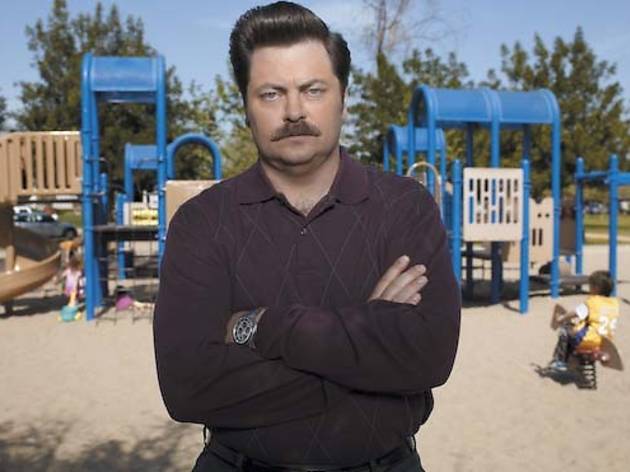 Nick Offerman's favorite wood is white oak. "To me it's the most formidable of the cabinet woods," says the Parks and Recreation star and woodworking enthusiast whose solo show, American Ham, plays Saturday 16 at the Vic Theatre as part of TBS Just for Laughs. "It's incredibly beautiful and strong and so dependable and stable that it was used to build the hulls of square-rigged sailing ships."
Strong, dependable and stable are adjectives that could describe alter ego Ron Swanson, the lovable, anti-government curmudgeon whom Offerman masterfully portrays on Parks, and also Offerman himself. When we speak by phone, the burly Illinois native is in his shop in Los Angeles building a canoe. "There's something really gratifying about building a shape out of wood that allows one to travel great distances over the water," he says of the endeavor. "Seeing the shape of a boat appear on your work bench, it feels like you've built a Corvette out of Popsicle sticks."
In addition to touring with American Ham, a show about "tips for a prosperous life," and a fishing vacation with family in Minnesota, this is how Offerman will spend his summer. "I have enough pursuits that I'm passionate about that I have a hard time putting my feet up," he says.
Offerman, 41, was born and raised in Minooka, a small town just outside Joliet. He studied theater at the University of Illinois and in the '90s moved to Chicago, where he cofounded the acclaimed Defiant Theatre storefront company. Offerman says Defiant possessed a high-octane performance style that mixed stage combat, commedia dell'arte, carnival and Kabuki. "We were a goofy bunch of ragtag farm kids who had an agenda we wanted to get across," he says.
The future sitcom star was unaware of the comedy renaissance happening simultaneously at iO and Second City. "I engaged in zero comedy while in Chicago," says Offerman, who befriended iO alum and Parks and Rec star Amy Poehler while living here. "Amy and I laugh about it now because she was the same way. Your work was so consuming. I had no interest in seeing an improv show any more than I was going to watch somebody play golf." (He points out, however, that Defiant shows were often funny.)
In 1997, Offerman moved to Los Angeles, where he met Megan Mullally (Will & Grace), whom he married in 2003. It was during an audition for a guest spot on The Office that he first grabbed the attention of writer and producer and future Parks cocreator Michael Schur. Several years later Schur called him in to audition for the part of Ron Swanson, a government employee who is staunchly anti-government. Offerman read aloud a one-page monologue at home; his voice fit perfectly. "I started crying and laid down on the floor and cried some more and said [to Megan], 'Let's see if I can get this part.' "
In Swanson, there are common threads (both play the saxophone and enjoy woodworking) and many differences. "Los Angeles for me is a fascinating, multi-headed beast," says Offerman, who resides in the City of Angels with Mullally and their two dogs. "Ron Swanson would probably get within 30 miles of L.A., see the smog layer sitting over the city and get off the highway and head back to Arizona."
With American Ham, Offerman leaves Swanson behind for a solo outing that will open with a few musical numbers from Mullally. The show was written with graduating seniors in mind. "I sincerely wanted to pass along a little bit of advice or philosophy to the students and then dress it up in personal anecdotes and cautionary tales with some songs and minor nudity," says Offerman, who then pauses. "Rest assured, the show is funny."
Nick Offerman performs American Ham Saturday 16.