Paul F. Tompkins at Just for Laughs 2011
Our favorite raconteur joins Just for Laughs.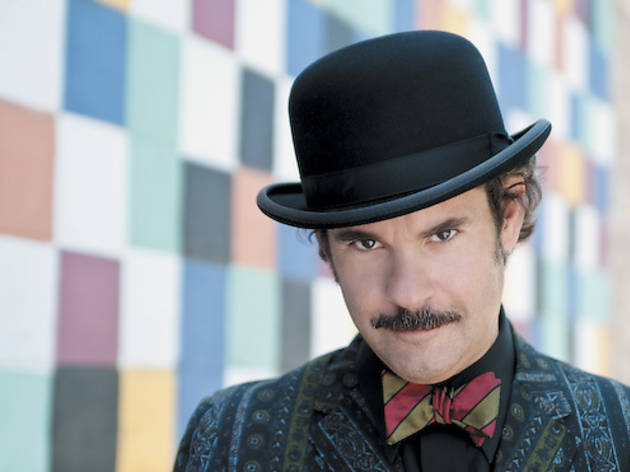 When I ask comedian Paul F. Tompkins where his use of grandiloquent and antiquated words and phrases comes from, he stops me right there. "Hold on a second, do I really use a lot of antiquated words?" he asks. "I get this a lot and I do consider it an accusation." I submit his use of the phrase, "have you taken leave of your senses," from his 2009 album Freak Wharf as evidence. The 42-year-old L.A.-based comic concurs and tells me, "I prefer to think of it as theatrical language."
Theatricality extends to every aspect of Tompkins's comedy: It's part of his routines, narrative-driven diatribes that play boldly and comically with words and ideas; an attention to style that includes seersucker suits, top hats and jaunty bow ties; and a strict belief that a comedy show should be treated like a piece of theater and requires the utmost respect from the audience.
That belief led him to create a new concept in booking called the Tompkins 300, an idea initially driven by Facebook in which Tompkins would travel to any city to perform in front of 300 committed fans. It's an idea tied directly to Tompkins's dismay with the current club circuit. "The comedy club is not in the comedy business," Tompkins says. "They're in the food and drink business. I am in the comedy business, so we're not on the same page, and that's what makes it difficult. It's hard to hold the attention of people who are at the comedy club because it's a variant on places they normally go to drink."
The Tompkins 300 has paid off in roughly a dozen North American cities where an avid fan base has given the comedian free license to do away with joke telling in favor of his signature storytelling. Last summer in Chicago, for example, Tompkins devoted his entire set to his work life, an unusual journey that includes clerking at a video store called Beta Only and a read-through with Tom Cruise for the film Magnolia. "Doing these shows where people already know who I am, it allows me a creative freedom and a creative openness since I'm not distracted by waiters and waitresses and a check being dropped at the climax of my set," he says.
Hearing Tompkins, it's easy to imagine his witty yarns leaping from the pages of a magazine like Esquire or The New Yorker or compiled into a single volume of work. Tompkins did recently write much-talked-about American Idol recaps for New York magazine, but is so far keeping a serious literary endeavor at arm's length. "My author friend put it very succinctly and said, 'Since there's not usually a ton of money in writing books, it's got to be something you care about so much that you see it as a book,' " he says. "I would love to have a George Saunders–type collection of essays, but I still find that very intimidating. I'm not ruling it out."
But of course, to read Tompkins rather than see him live would mean missing him hitting the stage in one of his trademark suits, perfectly tailored haberdashery that recalls the turn-of-the-century era depicted in There Will Be Blood (in which he had small role). "I'm not trying to look old-fashioned," Tompkins says. "I'm just trying to look nice. It's not like I'm never in casual wear. I won't show up at Six Flags in a bow tie." Still, I can't help but imagine Tompkins reading this and smiling at my use of an old-fashioned term like haberdashery. "I love the right words for the right idea," says Tompkins. "It's exciting to me."
Tompkins appears with Demetri Martin and Special Guests, Who Are Also Comedians and Are Friends of His Thursday 16.