Sarah Palin Explains America at You at iO
iO takes aim at Sarah Palin.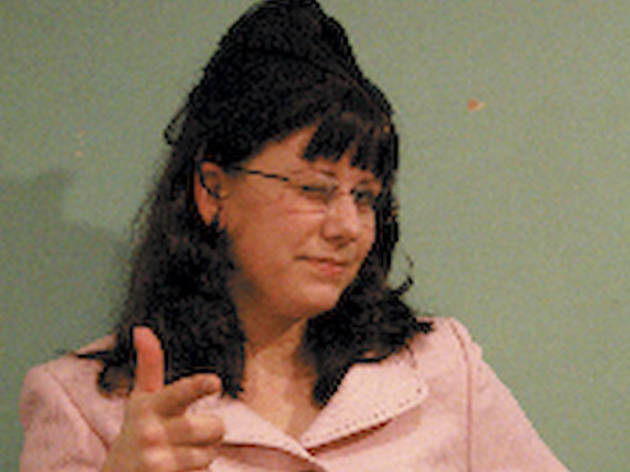 "Hey iO, how's that sketchy, improv-y thing workin' out for ya?" That's the kind of question a self-righteous and indignant Sarah Palin might ask the venerable improv institution if she found out it was unveiling a new show poking fun at her. Sarah Palin Explains America at You, opens Thursday 3 at iO's Del Close Theater.
Creator Jason Chin describes Palin as The Colbert Report meets SNL meets iO's Whirled News Tonight (which Chin originated). For each "episode" of its eight-week run, improviser Megan O'Neill will play the former Alaska governor in a variety of sketch and improvised segments including Great Moments in American History, a conservative, revisionist take on historic events, and Movie of the Book Club, a sketch in which Palin, too busy to read an actual book, critiques the film version instead. She'll also host a town meeting with audience members to garner feedback.
The show's format, a mix of sketch, improv and audience interaction, is meant to mimic the variety shows of yesterday like the The Dinah Shore Show or The Brady Bunch Hour. "People will do their comedy bit," says Chin, "and it will end with someone knocking on the door. 'Oh, it's President Obama, what are you doing here? Shouldn't you be spending our money?' "
Chin's a veteran improviser of more than 16 years and a satire fanatic who started reading Doonesbury when he was a kid. "Half the jokes I got and half were references to people and things I didn't know," he says. "My mother made me read encyclopedias and newspapers so I could get the rest of the jokes. I actually got to politics through comedy." His Whirled News Tonight is an iO mainstay of eight years. Each week, the nimble ensemble improvises scenes based on headlines literally ripped from current newspapers (by audience members,
no less) and pinned to the wall. Pointed political satire often emerges, as does flat-out silliness.
But Whirled News remains current for obvious reasons. Having watched Tina Fey (and countless others) rip the former would-be Veep a new one, does Chicago need a homegrown rehash? Chin wishes we didn't. "I came up with this idea a year ago, but Megan was planning her wedding," says Chin of Palin star O'Neill, who he swears does a spot-on impression. "I said, 'Let's see after your wedding if Sarah Palin is still in the news.' Hopefully not, so we don't have to do the show, but unfortunately she is." In that respect, Chin's tapping into a truth; each time Palin opens her mouth, she offers liberal pundits and late-night talk-show hosts new zingers while retiring old ones. "One of the first things we said was, 'There should be no—I can see Russia from my house—jokes.' "
But the show's primary target isn't Palin. She's merely the prism through which it can poke fun at the right wing and satirize current events, including local ones. Actors portraying Carol Moseley Braun and mayor-elect Rahm Emanuel, for example, are scheduled to make appearances. This format worked with Second City's smash hit Rod Blagojevich Superstar, a show about Blago's downfall, which debuted in 2009 and returned last year with added twists.
If the show's a success, Chin will ask for an extension. He thinks it has legs. "When Megan and I sat down, the question was, Is it necessary for us to do this? I think it is. Sarah Palin seems to be a focal point of things where I go. How is that real? The sad thing is I've been forced to read all of her Facebook and blog postings. It's interesting to see what gets deleted and what doesn't. 'Sarah Palin is a liar' gets deleted within an hour. 'We have the devil incarnate in the White House,' that stays on."
Sarah Palin Explains America at You opens Thursday 3.