Second City ruined my life
Well, not exactly. But getting fired twice was quite a punch in the balls.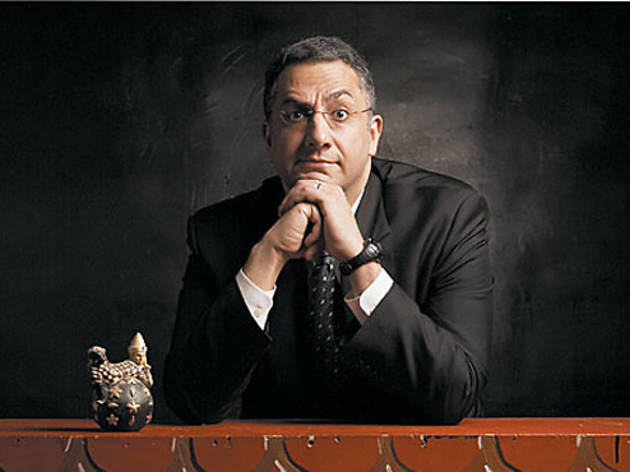 In the '90s, I worked at the Second City in the touring company, and I was on the e.t.c. stage. I was fired twice and almost a third time. My name is Ali, and this is my Second City story.
The first time I almost got fired I had just gotten hired. I wore a pair of Chippewa motorcycle boots, which I had worn during my audition. After a show, a director said to me, "Change your boots; they're too clunky." Being a smart-ass, I said, "Sure, first thing in the morning." It became a big deal instantly—"If he doesn't change his boots, he's fired!" I was ready to take the fall. This would be my Braveheart moment. But before I could scream "freedom!" Joyce Sloan, the matriarch, got wind of this and said, "Leave him alone. Look at what John [Belushi] and Danny [Aykroyd] were wearing when they worked here. When he's tired of wearing the boots, he'll stop." After that decree, the saber rattling was over, and I was left alone. A month later, I changed my boots to half boots.
The second time, I actually got fired. It was a "prom show," meaning high-school kids are bused to the Mainstage after prom to keep them from getting into mischief. Basically, we act as human condoms. We were told we could not say fuck. I could not wrap my head around the fact that this theater was built on social and political satire and speaking truth to power, and now I'm doing baby-sitting theater after midnight, and I can't use a word we use in every other show.
When I opened the show, I told the kids, "I want you to know your teachers told my handlers that we're not allowed to use the f-word tonight…but it doesn't mean you can't." The Mainstage erupted with 350 angry, horny kids screaming, fuck this, fuck that, "Fuck Mrs. Seymour!" The official charge was that I "enticed them to riot."
Two and a half years later, I was rehired; nine months later I got fired again. This time I swear I wasn't acting out. I had two weddings in L.A. on the same day and I asked for the weekend off. I had already used my vacation time. They said I could miss the Saturday show, but I had to be back for the Sunday show. I flew to L.A., went to both weddings, ran across an old flame, asked her if I could stay Sunday, would she want to spend the day together, she said yes, I stayed. My understudy went in, I got back Sunday night after the show, went by to say hello and everyone said, "They fired you again. They said you never intended to come back for the Sunday show." I made the decision out of love and would do the same again.
A few weeks later, in August '99, I was in my office at Saturday Night Live, where I'd been hired as a writer for the 25th-anniversary season, getting congratulatory calls from the people who'd fired me weeks earlier. How sweet it is. Then, a week before Christmas, SNL let go of three writers due to budget cuts. I was one of them. So if you're keeping score, that's getting fired from both Second City and SNL in a six-month period. That was quite a kick in the nut sack, but that's life.
Since then, I've opened up my own theater, the Peoples Improv Theater (a.k.a. the PIT) in New York. It's seven years old this December, and now I have to deal with all the drama I made the powers-that-be deal with at Second City. There is no force more humorous than the universe. As the saying goes, "You're not a human being until you've been fired twice," so I thank the Second City for making me more human.
Farahnakian is an actor/writer/improviser and the owner of the Peoples Improv Theater (thepit-nyc.com) in New York, where he teaches and performs.