Sophomoric effort
Legendary shock troupe Annoyance Productions resurfaces, but don't call it a comeback.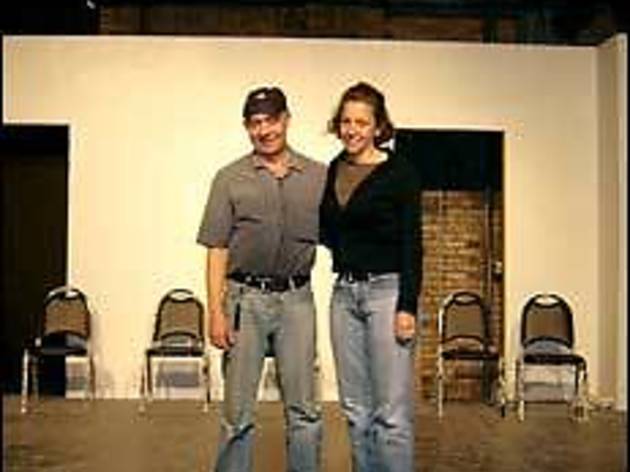 The Annoyance Theatre may have been MIA for the past five years, but the company hasn't been forgotten.
"We've had no theater since 2001 and we've done no advertising," says Jennifer Estlin, Annoyance's director of production and development. "But I'd get a call at least once a week from somebody asking when Coed Prison Sluts is playing."
Happily, Annoyance's irreverent stage productions will soon be back, in the company's new permanent space in Uptown. Sluts, however, will not be remounted, even though it holds the record as the longest-running musical comedy in Chicago theater history: "Let that show be a part of our past," Estlin says. "We don't want to be one of those theaters that rides on the coattails of the one biggest thing they ever did. We made a pledge way back when to stop doing the show when Kahlua, the dog that was in it, died."
Founded in 1987, Annoyance built an enduring cult following with quirky, improv-honed shows like Splatter Theatre, a slasher romp that walked a fine line between shock and hilarity. Another Annoyance success was The Real Live Brady Bunch, in which the ensemble reenacted entire episodes of the series. Estlin believes the show directly inspired the '90s film parodies.
The company was forced out of its Wrigleyville space on Clark Street in 2000 when the building was sold for demolition. Their plan was to relocate immediately, but things rarely go according to plan in Off Loop theater.
Estlin and her longtime partner Mick Napier (the company's artistic director and a Chicago improv legend in his own right) eventually found their ideal new space: the old Heilig Meyer Furniture building at 4840 North Broadway. The developer converting it to condos had alloted the ground floor as commercial space. The couple signed a lease for it two years ago, but they couldn't get into the space until this past February. The new Annoyance space includes a 110-seat theater, classrooms and production facilities. The plan is to be up and running by the end of June.
"It was a real voyage of the mind for us, determining whether or not to hang in there," Estlin says. There were clauses in the lease that would've allowed Annoyance to pull out of the deal, and Estlin says they seriously considered giving up on several occasions due to unforeseen delays. Ultimately what kept them committed was a chance to participate in the transformation of Uptown. "The alderman [Mary Ann Smith] is so committed to making Uptown an entertainment district," Estlin says. "We've had nothing but support, and had no trouble getting a liquor license, so it was worth waiting for."
While waiting for their space, Estlin and Napier concentrated on their popular improv training program, now in its 15th year. Revenue from the courses helped pay for the new space; other funding has come from private donors.
The new theater will be open Thursday through Saturday nights. An initial slate of five productions includes a weekend sketch show called President Bush Is a Great Man, ensemble member Susan Messing's two-hander Messing with a Friend (in which she enacts a variety of dysfunctional-relationship scenes, each week with a new guest collaborator) and a revival of Grabáss, a late-night comedy for "mature" audiences.
As anticipation for Annoyance's second act intensifies, some are wondering whether the company can recapture its glory days. Estlin, for one, isn't worried. "It killed us to be down for that long. Now we're just ready for the doors to open."
Visit www.annoyanceproductions.com for more information.