The Comedy Exposition becomes a summer stand-up standby
When Chicago lost its biggest comedy fest, a team of locals stepped up to the mic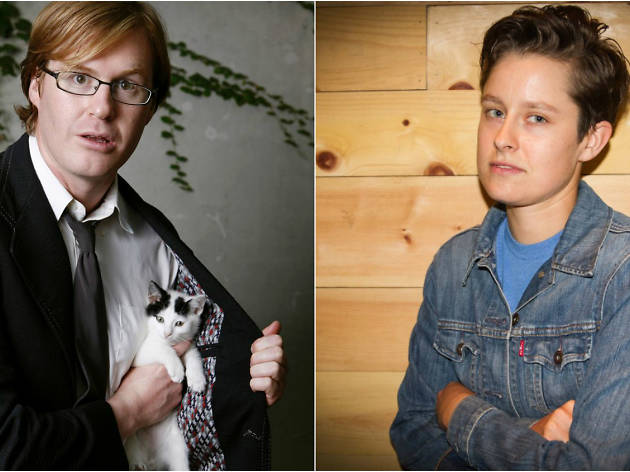 Now in its third year, homegrown stand-up festival the Comedy Exposition of 2016 has become an event to look forward to on its own merits. But when it was born as the Comedy Exposition of 2014 (the fest follows the naming convention of the World's Columbian Exposition of 1893), it was to fill a void.
In 2013, after five years in Chicago producing what was billed as the largest comedy festival in the United States, Montreal-based Just For Laughs announced that it was pulling out of the Chicago market.
"Since Chicago is the third-largest city in the country and, especially in the last few years, one of the biggest voices in new and up-and-coming stand-up comedy, it seemed pretty silly that it wouldn't have a comedy festival of its own," says Matt Byrne, one of the five core producers of the inaugural Comedy Exposition (and, full disclosure, a Time Out Chicago contributor).
Byrne credits comedian Katie McVay with the idea for the Comedy Exposition. "Inspired by the departure of Just For Laughs, Katie put up a thing on Twitter, like, 'Someone should organize a comedy festival.' And that kind of evolved into, 'I guess I'll put on a comedy festival,'" he says.
The response suggested an enthusiasm for "something more grassroots and comedian-run, more community-oriented [than Just For Laughs]," says Byrne, a comedy producer and freelance writer. By late 2013, he, McVay and fellow comedians Stephanie Hasz, Goodrich Gevaart and Zach Peterson had had their first official meeting.
That first fest was funded by a Kickstarter campaign, launched in 2014 with a $3,000 goal that was met within 24 hours. Today, the festival is self-sufficient, funded by ticket sales and submission fees from the now hundreds of lesser-known comedians who apply for stage time (a practice Byrne says is standard for most comedy festivals short of giants like JFL). The organizers remain all-volunteer. "None of us makes any money off of this. It's strictly a passion project," says Byrne. "We were inspired by this festival in Omaha called Crom, which has a punk-rock energy to it. There's kind of a summer-camp vibe for the performers; the shows are loose and fun," he says. Byrne guesses most people would call it 'alt' comedy. "JFL was so huge and awesome, and they did a lot of great shows, but we aren't booking Jerry Seinfeld."
Who to see at the Comedy Exposition of 2016
Rhea Butcher The delightful former Chicagoan has a new show, Take My Wife, with her wife Cameron Esposito that debuts on streaming comedy channel Seeso in August.
Kurt Braunohler Smart and affable, this headliner is goofy in a similar vein to Kristen Schaal, with whom he cohosts a weekly variety show in Los Angeles.
Megan Gailey A charming, flirty onstage presence, Gailey has gone from working local showcases to making her late-night debut on Conan last fall.
CJ Toledano A onetime Lincoln Lodge cast member, Toledano's since put in stints as a writer for Jimmy Fallon and head writer for the Detroit Pistons' Funny or Die channel.