The Revival brings comedy to Hyde Park
A new venue brings improv comedy back to its birthplace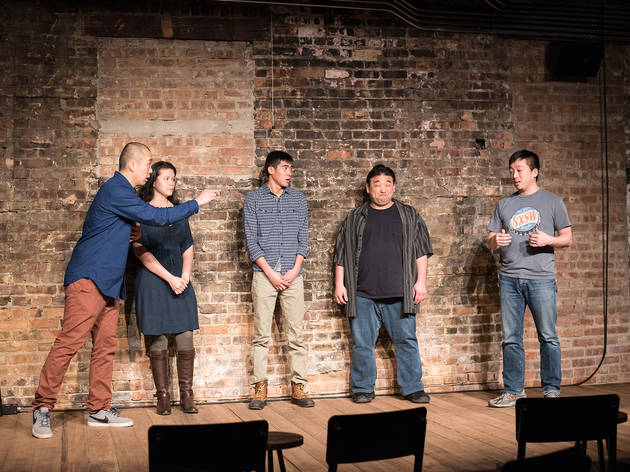 In 1955, Paul Sills and David Shepherd founded the Compass Players, a precursor to the Second City, in the back of the Compass Bar at 55th Street and University Avenue in Hyde Park. Over the course of four years, with members including the likes of Mike Nichols, Elaine May, Del Close, Jerry Stiller and Anne Meara, the Compass Players invented improv comedy as we know it.
Six decades later, improv (and stand-up and sketch comedy) have returned to the same corner with the opening of the Revival, a 150-seat theater.
Owner John Stoops, a Hyde Park resident himself, began studying improv at the Second City in the mid-'90s and "was very active on evenings and weekends" for nearly 20 years while working in advertising at Leo Burnett. In the late '90s, he took a year off to perform with Amsterdam troupe Boom Chicago; his castmates included Seth Meyers, Peter Grosz and Ike Barinholtz.
"A few years ago, I hit 40 and had sort of a classic midlife moment of introspection," says Stoops. "Advertising was great and certainly paid the bills, but my head and my heart were on the stage." After "a handful of soul-searching conversations" with his wife, he decided it was time to pursue artistic endeavors full-time.
His first move, in 2013, was cofounding the Three Oaks Theater Festival, a seasonal venture that imports Chicago theater productions for brief summer remounts in Michigan's Harbor Country. Last year he began working closer to home on the Revival, aiming to bring improv back to where it was born and making sure the onstage work reflects the community it's in.
"We don't believe in merely importing North Side talent to our South Side location," says Stoops. "The whole reason we exist—the whole reason we're here versus Fullerton [Avenue] and Clark [Street] or wherever—is not only because of the history but…the Chicago theater scene has been so overwhelmingly slanted to the North Side."
Since its soft launch last fall and official opening in January, the Revival has included a mix of improv, sketch and stand-up programming, featuring established groups like Stir-Friday Night and the Defiant Thomas Brothers and stand-up showcases curated by Felonious Munk and Dave Helem. The venue also hosts a weekly show by the University of Chicago's student improv group, Off-Off Campus.
In addition, the Revival offers classes for adults, teens and kids; the youngest group class, known as the Pre-Nap Players, is for ages three to five. "We need to create those future generations," says Stoops. "Our mission, if you will, is to be of, by and for the South Side."
Visit the-revival.com for show and class schedules.
A new comedy venue on nearly the exact spot where the Compass Players, a precursor to Second City, performed in the 1950s, the Revival hosts a diverse mix of sketch, improv, stand-up and other entertainment.
Read more