UP Comedy Club
Your guide to Second City's new room.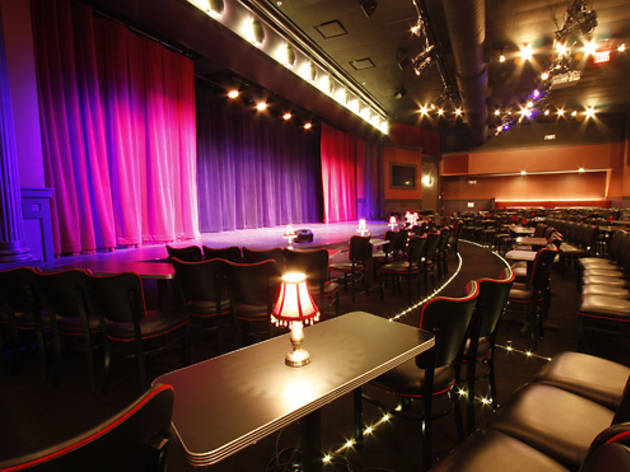 Is Second City's new 280-seat performance space a stand-up club, cabaret or children's theater? If you answer "all of the above," you're correct. Second City describes the UP Comedy Club (230 W North Ave at Piper's Alley, 312-662-4562), which celebrated its official grand opening February 17, as "a new hybrid performance venue with an eclectic blend of comedy." Here's your complete scoop on what to see, what to skip and what is up at UP.
Stand-up
Expect to see some relatively big headliners on Fridays and Saturdays, when the theater is handed over completely to the art of stand-up. The Second City has partnered with Levity Entertainment, the folks behind the Improv comedy club chain, to assist with headliners, and so far it's booked both comedians I've liked (Garfunkel & Oates, Brian Posehn) and some I haven't (I won't mention names). Upcoming comedians include Christopher Titus, Rhys Darby (Flight of the Conchords) and weirdo Mitch Fatel.
*Need a lift? Try a vodka and Triple Sec-infused Late-Night Lemonade (they're addictive), but skip the Capone Colada; Al himself would've machine-gunned down this muddy mess.
Next UP Spotlight
Speculation about whether or not UP will put emerging comedians front and center is settled with this diverse showcase of local talent that, at its February showcase, boasted the weird and wonderful John Hartman, the hysterical Jet Eveleth, the incomparable Adam Burke and mischievous clown Dean Evans. Rumor is, this showcase will happen monthly, so stay tuned.
*Burke also cohosts the packed Cole's (Miner's Daughter) Open Mic every Wednesday at Cole's Bar.
Sex, Love & the Second City: A Romantic Dot Comedy
A giant iPhone serves as the backdrop for this lovey-dovey, date night offering that unfortunately neither subverts nor expands the romcom genre. Dorinda and Edrick (played by Amanda Blake Davis and Ed Kross) are two lonesome doves navigating the troubled waters of online dating with love guru Fred Willard (who appears via video) haplessly steering their sinking ships. Funnier moments include a flirtation with an OnStar rep and a fantasy sequence gleaned from a romance novel, but a scene at Medieval Times is hardly a good way to joust for audience laughter and the canned backdrops betray our own imaginations.
*Want to impress your date? UP's menu boasts two dessert options. Skip the Eli's cheesecake and opt instead for some gooey goodness from Lincoln Park bakery Molly's Cupcakes.
The Second City's Improv All-Stars
It's a lot of the same short-form improv games we've seen a hundred times before, but in the hands of director and Annoyance founder Mick Napier, this show shines brightly. A talented rotating ensemble (including Kellen Alexander, Chelsea Devantez, Cody Dove, Hans Holsen and Brooke Breit) consistently plays at the top of its intelligence and manages to pull huge laughs out of thin air, reminding audiences that in a town that worships improv, Second City is still the top temple when it wants to be.
*Smart, funny and raunchy, Improv All-Star Rachael Mason had me in tears at one point.
The Second City's History of Chicago
This show was unavailable for review as of press time, but I can report that archival and original scenes meld together in this satirical nod to our cold, crooked and cultured city by da Lake. At a workshop version I hit last summer, some of the vintage material felt a bit dusty, but the ensemble sprang to life during the new and improvised scenes. Second City wants this one to succeed, so look for a polished version coming soon.
*Yeah it's cheesy (pun intended), but we happen to like that UP is serving deep-dish pies from Lou Malnati's (they even use the same Blodgett 4 tier ovens).
Second City's Improv Extravaganza Explosion
At one point during this outing for the wee ones, a handful of kids were picked to join the ensemble onstage and imitate circus animals. If that, coupled with high-energy short-form and audience interaction, doesn't beat a sugar rush to an eight-year old, what does? There were some sly references for the adults (which the show could use more of) and plenty more to enjoy at this solid, family-friendly offering.
*Second City is working to wire the telephone at Booth One so patrons can place food and drink orders and make calls like folks did in old-timey days.