Heads up! We're working hard to be accurate – but these are unusual times, so please always check before heading out.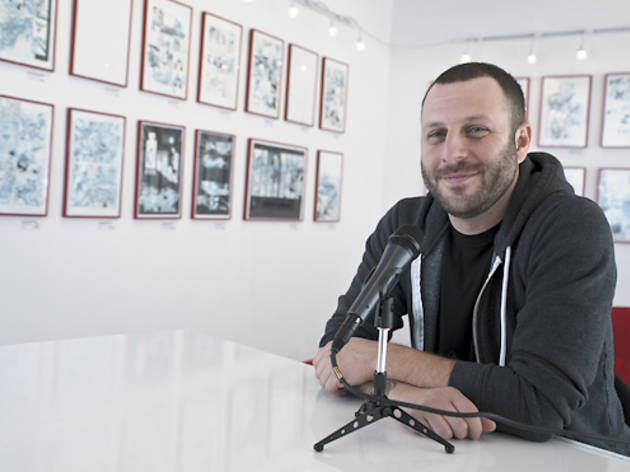 Wrestling with Depression
A new podcast tackles depression.
Do you feel irritable? Have you lost interest in activities you once enjoyed? Have you experienced changes in weight or appetite? If you answered yes to any of these questions, then you may be the next person tapped to appear on Wrestling with Depression, a new podcast hosted by Chicago comedian Marty DeRosa that is devoted to creative people speaking about their mental-health issues. As DeRosa himself stated in the podcast's June debut, "This is about being depressed pieces of shit." It's terrific.
DeRosa, 35, is a fixture on the local comedy scene. The Northwest Indiana native has lived in Chicago for eight years and has been practicing comedy for five. He's a coproducer of the weekly stand-up showcase the Comedians You Should Know and appears at venues including at the Laugh Factory and the Improv. He often kills. A DeRosa joke that always give me a chuckle is when he describes Wrigleyville to out-of-towners: "Just imagine the apocalypse if it were sponsored by Axe body spray."
His podcast derives its name from two constants in DeRosa's life, clinical depression and a love of pro wrestling. With local legend Colt Cabana, he produces a weekly Web series called Creative Has Nothing For You (about the relationship between pro wrestlers and the writers who devise their story lines) and a DVD series called 5 Dollar Wrestling, which he describes as Mystery Science Theater set to bad wrestling. "I think it's the greatest thing on the planet," he says of the sport. "It's kind of always been my escape. If my mom and dad were fighting I would just go and have my wrestling figures. I love it so much."
DeRosa also knows hard times. He grew up in an alcoholic household and at age 20 drunkenly rammed his car into a semi. In 1999, the summer before his fourth year in college, his sister drowned while vacationing in Costa Rica. The following spring his mother, who had been in remission, died of cancer. Each event only exacerbated his long-standing battle with depression. "I was an absolute zombie, a total shut-in," DeRosa says. "I sometimes went to class but mostly I would drink in my apartment by myself and watch TV."
In Wrestling with Depression, which currently has about 20 episodes, DeRosa has found the perfect outlet for his blues. He's a natural speaker and listener, and the hour-long show cracks open guests' most intimate mental- health issues with candor, but without becoming lugubrious. Local stand-ups speak frankly about their toughest times. C.J. Toledano, for example, talks about losing his dream job as a writer for Jimmy Fallon. Danny Kallas talks about living with OCD, and Megan Gailey reveals a suicide attempt. "There's no accident why all these people are doing comedy," DeRosa says. "There's definitely a makeup. If you take a comedian's brain and split it there's neediness, depression and all this stuff."
They're not the only ones in the hot seat. DeRosa has branched out to include a comic-book store owner, a vegan baker and, yes, pro wrestlers like Cabana. "There's a lot of depressed wrestling fans and a lot of depressed comedy fans," DeRosa says. "It bleeds over quite a bit."
The formula has proved therapeutic for guests and listeners alike and is an Internet success. It became the No. 1 top mover on Stitcher SmartRadio the first week it was uploaded. It's also gotten DeRosa back into therapy and on medication. "I will always be depressed," he says. "It's like alcohol. You're always an alcoholic. This will always be a struggle." But DeRosa says he's in the best place he's been for a long time, which is a good thing. He makes me laugh hard. We need him to stick around.
Wrestling with Depression is available for free on iTunes and at wrestlingwithdepression.com.