Heads up! We're working hard to be accurate – but these are unusual times, so please always check before heading out.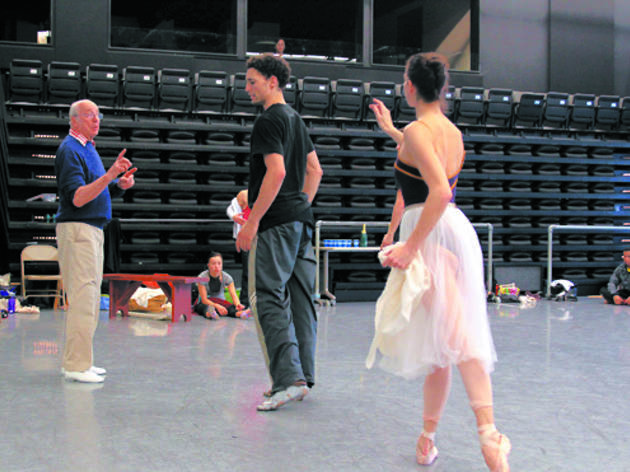 A new look at the Joffrey Ballet
Traces of the Arpino era are increasingly hard to find. But with a foundation in place and little demand, is it okay to let them fade?
Joffrey Ballet dancers Graham Maverick and Yumelia Garcia, watching other cast members rehearse the ballroom scene of The Merry Widow, opening Wednesday 16, talk through the choreography in time with the music. Although ballet's spoken in the same language the world over—French—there's a multitude of dialects when it comes to what those steps look like.
Take first arabesque, for example: When I moved to Chicago in 2002, I noticed Joffrey dancers' front arms thrust higher into the air, almost straight up, than any other company I'd seen. Their heads looked skyward at an angle to match. In comparison, the horizon-line restraint of first arabesques forged in London's Royal Ballet school looked elegant or prudish, depending on your tastes.
The exuberant Joffrey style, largely defined by cofounder Gerald Arpino, was unmistakable. In 2005, Jennifer Dunning, writing in The New York Times, remembered it as "the most American of [New York's three ballet] companies in its embrace of pop culture and youthfulness." Ten years earlier in the same newspaper, Anna Kisselgoff wrote the Joffrey a farewell as it relocated to Chicago. "No ballet troupe so consistently reflects the tenor of its times," she said.
Today's company, under the directorship of Ashley Wheater—who trained at the Royal but was a Joffrey dancer from 1985 to 1989—doesn't zap its audience with the lightning bolts of the Arpino era. But as far as reflecting the tenor of its times, it may now more than ever be earning that description.
Ronald Hynd, The Merry Widow's choreographer and a 79-year-old dean of British dance, dryly notes before rehearsal that the days when a ballet company could perform in one style, "perhaps wonderful in many ways but, still, very limited," are long gone. "That's simply not good enough." And pushing dancers to be more chameleonic expands their artistry. (It keeps things interesting for the public as well: The best part of watching the Joffrey last year was seeing it morph from series to series.) Hynd's Widow requires Victorian regality dusted with Parisian hauteur; next season, Joffrey dancers will take on in the middle, somewhat elevated, the most influential ballet of the last quarter-century, one Hynd says he's seen "rip dancers in two."
The skyward arabesque arms and brash speed I remember were frequently seen during the Joffrey's first Chicago seasons. Costs were kept down to stabilize the company after its move; because Arpino's ballets were created in-house, no royalties were due. These days, when classic repertory like Reflections (1971) does reappear, former Joffrey members Michael Anderson and Patrick Simoniello say it's dialed back. "I do miss the Arpino attack," says Anderson, 46.
After decamping to Hubbard Street, Simoniello returned to perform a few more times under Arpino's direction, then stayed through Wheater's first three seasons. Fellow longtime company members "ran into issues," says Simoniello, "when what came before wasn't looked at in the most positive way. Instead of saying, Why don't we try it like this? the message was more, Why on Earth would you want to do [a step] like that?" Arpino's works were toned down in a way that "pooh-poohed" their brassier moments, says Simoniello, 36. "No one wants to hear they have the wrong color lipstick on. Even if they do."
It was Arpino who invited Wheater, then at the Australian Ballet, to join the Joffrey in 1984. "I loved working with him," says Wheater, 51. "But there were ballets that just didn't fit with me, and we were very honest about it. I remember Jerry coming to me one day and saying, 'Do you want to be in Light Rain? Think about it, baby.' I said, 'Jerry, I just don't think it's me.' "
Whereas most styles of ballet are stewarded jointly by multiple companies—three major American troupes and numerous regional ones are predominantly staffed by Balanchine-trained artists, for example—the Joffrey's has always been idiosyncratic. Less than a month before his death at 85 in October 2008, Arpino set up a foundation to ensure 45 of his works and 15 of Robert Joffrey's were preserved to be licensed by companies worldwide. Housed on site at the Joffrey Tower and managed by Harriet Ross, it's sold rights to about a dozen companies, schools and university dance departments.
Says Wheater: "No one's ever said to me, 'What happened to the old Joffrey?' "
Ronald Hynd's The Merry Widow opens Wednesday 16 at the [node:31924 link=Auditorium Theatre;].