Exit interview: Suzanne Lopez
Lopez talks 20 years dancing for the Joffrey Ballet and her next steps.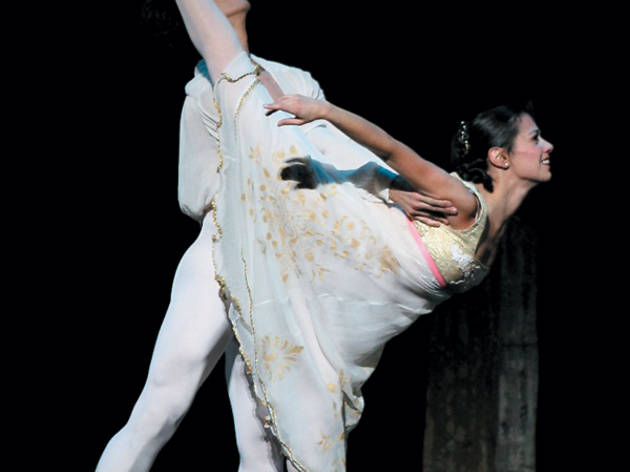 May 9 was the closing matinee of the Joffrey Ballet's spring program at the Auditorium Theatre and the last curtain call for Suzanne Lopez, who spent her entire career—20 years—with the company. We gave her a week off to relax before ringing her up to reminisce and tell us about her next steps.
So you've been in ballet class every day since your last show, right?
Yeeeah. No, it's been lovely, I have to say. Productive in all new ways, but a lot of downtime, too.
What's the best part of your new life so far?
It's really nice being able to cook a meal again and hang out with my two kids. Last night I was itching to get some exercise, though. I'm going to have to find ways now that it isn't just built into my day, which has been quite a realization. I do like the feeling of taking a good class—as long as it's fun, I'm all for it, but I won't be doing it every day. You know what? I've never taken yoga. I'm probably the only dancer who hasn't. Maybe now would be a good time to try.
Zumba?
Maybe!
Who was onstage with you for your last performance?
I danced Valses Poeticos with Mauro Villanueva. The piece was kind of picked for me—it went up as what I was going to do, and I was like, "Oh. Okay." But it's a good thing it was chosen for me. I never thought much about what my last show would be, and I absolutely love dancing with Mauro.… Maybe I would've wanted to do something of Mr. [Gerald] Arpino's or danced something with Patrick [Simoniello], who was injured, but it was really fun. It felt peaceful and serene. I just really enjoyed myself. I felt like I could hear a pin drop. I was focused on everything, but also I was in my own little bubble. [Pause] It's a little strange to me that I haven't been sad at all. I'm kind of waiting for this overwhelming sadness, and I just don't feel it, which makes me think, okay, this was the right thing to do. I haven't cried at all.
Who else did you enjoy dancing with?
Patrick's probably number one, but he's also my best friend. I've been really lucky, I've had some great partners. Patrick, Mauro and Willy Shives were all such great experiences; they're all just really strong and able, and every moment was productive and fun.
Did you dance all the roles you wanted to?
There's always stuff you wish you could've done. I never danced a Kylián ballet, and I know I would've enjoyed that.… I'm sure I'm going to watch dance in the future and think, "Oh, that looks like so much fun," but right now I don't envy the people who are still going. I did a lot, and I feel good about it. As far as roles, you know, when I was 16 or 17, there were all these things I wanted to do and I really did get to do every single one of them. Sugar Plum. Juliet. Even La Fille Mal Gardée …which I did for a guesting with Calvin [Kitten]. It wasn't onstage with the Joffrey, but it counted! [Laughs] There were also things that came along that were so amazing, and that I never even dreamed of doing. The Moor's Pavane, [The] Lilac Garden, these ballets that meant so much to me that were so intense, not just to perform, but the whole experience of working with whoever was [staging them]. They became these huge parts of my life and of my career.
In an interview with Vicki Crain, you said that dance-theater roles, and playing characters, became more satisfying than pure-dance roles as you got older. Could you talk a little more about that and why you think that is?
I think that started with The Lilac Garden, because I was playing the Other Woman, which is a role that's just not me as a person—I'm really not deceiving and manipulative, but I had a lot of fun being that character. [Laughs] With Juliet, too, I mean, I did Romeo and Juliet once before and again after I had one of my children, and how I approached Juliet, and what happens to her over those three days, really changed. I just enjoyed not working on just steps, I guess, but working on being a person that I'm not and hopefully moving people in the audience to feel something, and realize that they're not seeing Suzanne…[which] is such an amazing feeling of accomplishment.
Did you ever dance the other woman in Lilac Garden?
Yes, I did both lead roles, Caroline and the Other Woman, and I loved that.… It was really hard to switch gears when I played both in the same season. I love that ballet. I think it's so completely perfect.
Did you think so as soon as you learned it?
The first time the Joffrey did it was around ten years ago. Donald Mahler taught it to us, and he also came back when we did the all-[Antony] Tudor program with Lilac Garden, Offenbach in the Underworld and Dark Elegies. The second time he taught it—and I have to say, too, that I wasn't really that involved because I was just coming back from having my second child—I felt like he wasn't as thorough because he had three ballets to get up at the same time. I almost felt bad for the dancers. I'm sure it was a great experience for them, but I feel like they didn't get to dive into it as much as we did the first time around.
Who were your heroes?
I've always said that the people I look up to are my coworkers, the people I'm with on a daily basis. I'm inspired by looking at how people handle situations, and I learn from that, but when I first got into the company I thought Tina LeBlanc was just, it—everything I wanted to be. A beautiful technician, but a beautiful artist. I wanted to be her and do every one of her roles. We only overlapped for one year before she went to [the] San Francisco [Ballet]. And I kind of ended up following in her path and doing a lot of the same roles she did, but very differently. I'm not her, and it was kind of hard to realize that.… She probably has no idea I worshipped her [Laughs]. I'm sorry that I didn't get to see more of her career, but obviously she did very well. [Laughs] But yeah, I was always just looking around me. I worked with Maia Wilkins on a daily basis. She was always first cast and I was always second cast [Laughs], but I always knew why. She was an incredible artist. I learned so much from her. [Pause] My role models changed as I got older, to people who surrounded me from people I couldn't touch, you know?
What's next?
For about half my career, I'd help out with running rehearsals, and I really love every aspect: setting a piece, cleaning it up, coaching—all of it. A lot of the time it was for Arpino repertoire, and since Harriet Ross has started the Arpino Foundation, she and I have talked about me setting his ballets. Unfortunately, there's not much demand for his work right now, but I think that's more because people don't know [many of them]. He could be a stickler about who could do his ballets—he didn't give them out very much. I think when people wanted them, he was always saying no, and now people think they can't have them.
So how does that work, then? Is it a fine line marketing his choreography and getting it out there, and still feeling like you're respecting the standards he had for how it should be danced?
It's a fine line, of course. You want to be respectful, obviously, of his standards, but if nobody's doing [his ballets], you can't really respect them. I don't think [the foundation] is saying we know what's best for him, but I think he would want his stuff to be done. It's a matter of making sure the right people are going out and setting these ballets…and we have a list of people that Harriet and the board of the Arpino Foundation find acceptable. As long as the right person is doing [the staging], you know it'll be taken care of.
What would you market as an introduction to his work? Is there a ballet you think would be a good ambassador for getting people excited about his choreography?
Suite Saint-Saëns, maybe. It's for a lot of dancers, and you're on the edge of your seat the entire time. You've never seen people move so fast. Choreographically, it's brilliant. It's hard—it's a very stressful ballet to do, but audiences love it.
So, your work for the foundation—will that be it for a while?
I plan to teach as well. I don't really have much lined up yet, but we'll see. I'm staying in Chicago, and there are a lot of schools. We'll see.
Who taught you the most?
I went to [a Joffrey workshop in San Antonio, Texas] with Mr. [Robert] Joffrey when he was still alive. He taught three-hour technique classes! [A typical ballet class lasts 90 minutes. —Ed.] But I remember being riveted [to him] from beginning to end, with my eyes and ears wide open. There was so much information and so many ideas of how to do things, and it progressed beautifully. [His class] was very structured and very disciplined, but by the end of class, he really wanted you to be dancing. That's important at any level, no matter what you're teaching.
How old were you at the time?
Thirteen or fourteen… He was very hands-on at every level: He'd be at the auditions, choose the dancers himself, he even taught the [audition] classes. At the San Antonio workshop, I took his class every single day for three weeks. It was the only summer [I did that], because after that year he wasn't as much a part of it; he was getting sick and, you know, running the company, too, so it wasn't as much of a priority. [Joffrey died of complications from AIDS in 1988, at the age of 57. —Ed.] I really respected that these kids were so important to him, because he knew that [they] were his future. I thought that was really impressive.