Kylián 'em softly
Hubbard Street bets on beauty.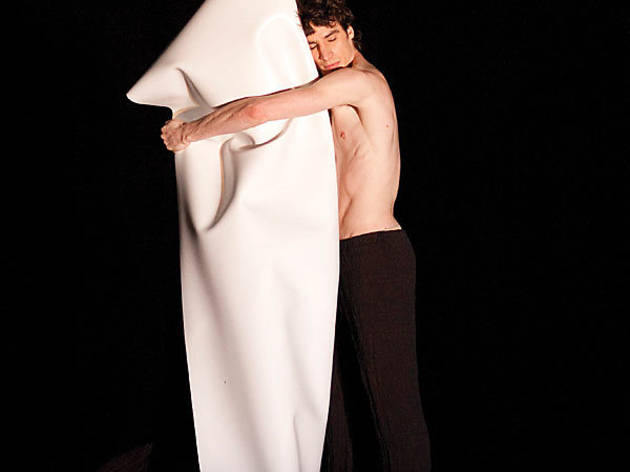 Five years ago, Hubbard Street Dance Chicago licensed and produced William Forsythe's Enemy in the Figure (1989). It's a seminal Forsythe work, the 11th of his more than 25 collaborations with Dutch composer Thom Willems. Willems's electronic music—bassy, loud, percussive, shrill and distorted—scored nearly all of the choreographer's dances from 1985 to 1995. Critics appreciated the cojones it took to bring the aggressively angular dance to American audiences. In Philadelphia, Lewis Whittington wrote, "This would have been a completely pretentious and deflated work in a company that lacked Hubbard's technical clarity, elite athleticism and artistic guts."
Audiences, however, were left cold; the piece barely lasted a year. Although Enemy was brought into the repertoire by artistic director Glenn Edgerton's predecessor, he's inherited the warnings Jim Vincent heard loud and clear. "Within Hubbard Street's 'family,' among people who know the company well, there are many who are violently opposed to that work," Edgerton says. "It came up, in fact, during the search for my position—there were a few people who said, 'If you ever bring back Enemy, your head will be on a platter.'"
A different experience in a similar package may be able to generate the kind of excitement Enemy was meant to. Thursday 18, Jirí Kylián's 27'52" (2001) will receive its company debut, joining No More Play, Sechs Tänze and Petite Mort from his previous period. Like Enemy, it has a small cast and breaks up the performance space with large, simple intrusions. Enemy's primary set piece is a tall, undulating wall, and an industrial light on wheels illuminates usually-anonymous corners backstage. Dance floors are covered with a heavy, rubbery material called marley; 27'52" has a second layer of the stuff left loose that the dancers peel back and shift underneath one another like tectonic fondant. Dirk Haubrich's score for 27'52", based on two themes by Gustav Mahler, is sexier and more subtle than Willems's sonic onslaught and includes text sourced from Baudelaire and Bruce Lee. "27'52" has beauty as its base," says Edgerton, "whereas Enemy portrays life as a kind of frightening chaos."
It's beautiful indeed, but in a way that asks more of the viewer than a work like Petite Mort, which is no more difficult to appreciate than the Mozart hit (the "Andante" from his Piano Concerto in C Major, K 467) it so perfectly makes visible. Every 20 seconds or so during the casual opening of 27'52", a chime rings through the silence; the fourth instance is enough to break the piece out of its idleness and instigate its first duet. Much of the movement is unpredictably truncated or obsessively looped, although the closing scene allows masterfully negotiated threads of inertia their complete expression. The loose floor is ripped away, and a dancer (we saw Alejandro Cerrudo) aims another's leg (Ana Lopez) at the audience like a shotgun barrel. 27'52", from its nonchalant beginning, closes on a series of aching events in quiet except for what sounds like a teapot whistling in an airplane hangar. Haubrich weaves strings into the moment as well, but in a way that skillfully avoids dictating emotion.
At the time of the creation of 27'52", Edgerton was artistic director of Nederlands Dans Theater (a position formerly held by Kylián himself). The work was made for NDT II, the junior company. "I was in the building at the time but occupied with running the main company," recalls Edgerton. "Whenever Jirí was making a new work, though, we were all of course very…interested. [Laughs] I visited the studio as often as I could." Edgerton brought 27'52" into the repertoire of NDT I, including it in a U.S. tour in 2004; the director of the second company was less than thrilled to surrender it, but "I needed a good piece."
History may repeat itself: Hubbard Street's own second company premieres First Light by Alejandro Cerrudo alongside 27'52" at the Harris Theater Thursday 18 through Sunday 21.