Live review | Dance | "Afterwork Masterworks"
A dancer's take on Hubbard Street and the CSO's latest concert, part two of our dual review.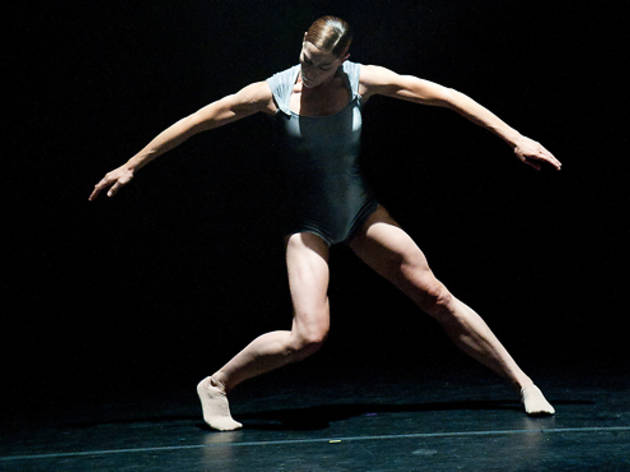 Whether due to a shortage of Adderall or shrewd audience engagement strategies, musical and visual variety was the spice of Wednesday evening at Symphony Center. The CSO performed five compositions spanning about 250 years; three included choreography by Alejandro Cerrudo, danced by his colleagues at Hubbard Street. Threatening chords for piano by Mendelssohn, played expertly by Amy Briggs, soundtracked the opening of a women's quartet, Blanco (2010), the dancers gingerly leaning forward as if to peer into the Grand Canyon. Within minutes, we saw the flamboyant return of Cerrudo's lately-muted sense of humor in As few as 3000, a jokey-then-poignant new piece recalling his underrated, complex visual allegory, Off Screen (2008).
There was baroque music, too. I'll leave the finer points of the CSO's interpretation of a Corelli Concerto grosso and Marcello's famous C-minor oboe concerto to Doyle and his expert ear. He did tell me afterward that my sense that the former lacked a throughline was not unjustified: Its second movement, a brief adagio-then-vivace, sounded more a three- than two-parter, its first half halved again by a trough of bottomed-out momentum.
I do hear well enough to know that Eugene Izotov's turn as soloist in the latter was world-class stuff. Anyone would recognize its centerpiece adagio, transcribed over the years for everything from wind chimes to rain sticks; dancers know it as the soundtrack to a heartbreaking duet from Jirí Kylián's 1995 Bella Figura. There were murmurs about the piece entering Hubbard Street's repertoire during my time there eight years ago but it's yet to happen; in fact, its long-overdue American premiere occurred just this week, part of a kick-ass mixed bill at the Boston Ballet continuing through May 8. If Hubbard Street does acquire the piece, a performance with the CSO and Izotov would be an unmissable event. (Kylián fans, of which there rightly are many, can bide time with Hubbard's revival of his 27'52" May 19–22 at the Harris Theater.)
The Czech choreographer has consistently been the most recognizable influence on Cerrudo's choreography; the "nothing taut here, no snapping into forms or rigidity in the motion" that Doyle noticed in Blanco comes largely from his adoption of Kylián-school hallmarks such as physical manipulations arranged as set-up, then pay-off; and the gratifying trick of revealing that a limb appearing to bear weight can move freely.
Which is not to say that Cerrudo doesn't bring his own voice to this existing visual language. But Blanco remains, for me, his least successful foray. Its tight constraint of four bodies who never leave the stage and barely interact didn't generate any ingenuity; I wonder each time why he chose those rules, only to halfheartedly commit to them. And its energy scatters oddly, with unmotivated running, just as the Mendelssohn pinpoints its focus. Dancers Meredith Dincolo and Penny Saunders obviously relished the live accompaniment, following Briggs's aerated phrasing wherever it went. A pianist needs light to see, though; the piece lost what tension it had earlier without full access to the chiaroscuro lighting effects Cerrudo uses so well and so much.
I'm not as underwhelmed as Doyle is by Martinu—granted, the composer's music and I don't often cross paths—but I know why Cerrudo chose it. The sudden tonal shifts in 20th-century music prod choreographers toward surprise visuals, and there are more than a couple in As few as 3000.
Its opening toccata contains images and ensemble movement Cerrudo's never shown before, new heights both of complexity and accessibility. Dancer Benjamin Wardell (departing HSDC at the end of this season, although fortunately planning to remain based in Chicago) begins moving in silence; the Martinu picks him up and the action begins, a rush of spatial patterning and cascading canons. Some of it is downright zany, like a dancer's dive headfirst into a huddle of bodies, poking another's head out the other end to create one superstretched figure carried offstage right, breaststroking in front and paddling feet dangled out behind. The curious absence of dance in the middle movement is not necessarily final, says HSDC, although it may appear without live orchestra in just the bookend sections.
I enjoyed the visual pause as a chance to chew on Cerrudo's overturning of a choreographic junk drawer—there are glimpses in As few of amateurish ballet, magic, self-flagellation, yoga and more. It takes a moment afterward to sort it all out. Plus, the title probably references the recent announcement that as few as 3,000 tigers remain in the wild; an empty stage where a cartoon civilization just flourished feels appropriately mournful.
The closing canzone section follows this meditation nicely, a pair of duets (still Cerrudo's specialty). In the first, Wardell tossed the petite Kellie Epperheimer around before she gathered the muster to face him head-on, the two sparring in slow-motion. Jesse Bechard and Ana Lopez crossfaded in to underline Martinu's gathering storm, then left the stage abruptly. The rich closing chord rang out over their absence like the cry of a planet for a species forever lost. That it was a major chord was the dot under the figure that hovers over each of Cerrudo's worlds, and which leaves me perpetually curious to see what he makes next: a question mark.