Lucky Plush Productions: The Better Half
A dance-theater piece inspired by a classic film gets rebooted as an action-adventure, meta–murder mystery about married life.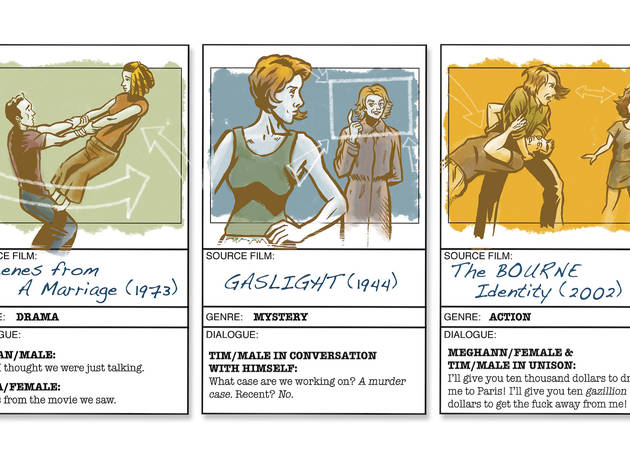 Although it includes some original lines, most of the dialogue in Lucky Plush Productions' Kaufman-esque comedy The Better Half, premiering October 27 at the [node:166725 link=MCA Stage;], is sampled from a broad swath of cinema. "Are we ever really original anymore?" asks cocreator Leslie Buxbaum Danzig of 500 Clown.
Danzig and LPP artistic director Julia Rhoads peg the screenplay for Gaslight (1944) as The Better Half's center of gravity. The film's linear, predictable plot, about a murderer who tries to convince his wife that she's crazy to keep himself out of jail, was perfect for this project because "it doesn't go anywhere interesting for us," Rhoads says.
In their version, a narrator detours the characters via lines cribbed from The Bourne Identity, Scenes from a Marriage and other films. The dancers occasionally request different parts, or desert unsatisfying scenes, seeking better roles.
Danzig and Rhoads also took good, hard looks at their own lives and marriages. Says the former: "There's something about reaching a certain age and realizing, Oh, there aren't an infinite number of stories that my life might be anymore."
On a scale of entertaining brain-tickle to impenetrable puzzle, The Better Half is deliberately more Being John Malkovich than Synecdoche, New York. "There are some audiences that want everything to be as obscure, complicated and inaccessible as possible," Danzig says, laughing. "Julia and I both like things that are very complicated and can be construed to mean different things to different people but, at the same time, we strive for accessibility. It's an ongoing pursuit to find the right balance."
The Better Half • MCA Stage, 220 E Chicago Ave (312-397-4010) • Oct 27–29, Nov 3, 5, 6; $28, members $22, students $10