Pilobolus Dance Theater enlists notable talent
Outside eyes help the famously creative troupe better see itself.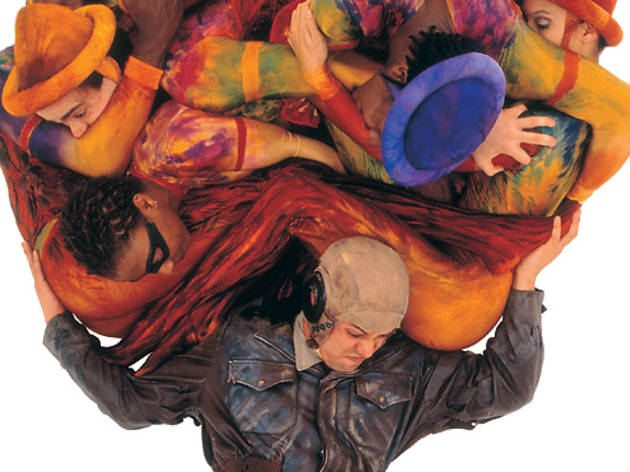 A renegade offshoot of the dance program at Dartmouth College, Pilobolus Dance Theater is now one of the field's precious few household names. Pilobolus Creative Services reimagines the troupe's signature acrobatics for corporate clients, and through a recently launched initiative, it's attracted a broad range of nondance talent in pursuit of fresh ideas. Anniversary tour Forty Years of Imagination, Playing into the Future, includes one such project—made with SpongeBob SquarePants head writer Steven Banks—and a slapstick sextet from its original 1971 lineup. Ahead of Forty Years's Chicago visit Friday 28 and Saturday 29, artistic director Robby Barnett explained from Pilobolus's Connecticut headquarters how outside eyes help him see more clearly.
You keep a lot of cooks in the kitchen.
We do have a lot of directorial voices and some differing approaches, but we all believe in giving the dancers as few directions as possible, with the thought that they will solve their own problems. If they seem lost or are making decisions that seem contrary to the work itself, we'll talk about it, but we encourage them to make it their own.
Pretty democratic for a dance company.
Living choreographers do often exert preternatural control. Paul Taylor, for example: There's no level of detail he does not consider choreography. But I think of it more like Beethoven's scores: They indicate pitch and time and some auxiliary emotional suggestions, but to a pianist, he's like, "Go forth and play."
How does the company archive, then? Pilobolus has 40 years' worth of repertory.
Well, I'm interested in the relative validity of methods of preservation. The various versions of Adobe, for example, that exist to preserve content may in themselves be worthy of preservation because they reflect the evolution of an idea. That's maybe a meta-idea of preservation, but there is a parallel there. Dances have a form that is somehow separate from their content. After all, dance is just the encapsulation of the psychological and physical interactions within a certain group of people at a certain point in time. Like a good bottle of wine: If it's good, it captures the light of the harvest.
And the company has cast a wider net lately.
Yes, over the last five years we've embarked on this International Collaborators Project, which is a 50-cent name for asking interesting people to come work with us.
Are you taking applications?
People do solicit our interest, although they tend not to be people we're interested in working with because we're looking for people outside of our field. [With ICP partners] like Steven Banks and [graphic novelist] Art Spiegelman—[puppeteer] Basil Twist is another example—we were trying out, I think, to see whether or not our theories would translate.
Do they?
[ICP partners Pinto and Pollak, an Israeli choreographic team] said themselves that they suddenly had to do things differently [afterward]. But I'm not sure Art Spiegelman approaches his work differently as a result of interacting with us. It's not a question we've asked.
How do you convince a nondancer to help you make a dance?
One of the advantages of our august age is our ability to convene. Even if they've never worked with dance before, we find that people will take our call. And we're pretty persuasive folks. So far no one's turned us down.
Collaboration is a popular word these days.
We use a pretty rigorous definition. A filmmaker and cinematographer, for example: We consider that "creative cooperation." Collaboration to us is three people directing a film at the same time. We bring Art Spiegelman in and have him…figure out who's going to take a step to the left or a step to the right. We're not asking him to draw pictures.
That's quite a gamble.
We did start out with a kind of curious arrogance that we could collaborate with anyone, and we're starting to think we were right. No one's flipped us yet, so there's a kind of psychic jujitsu. We take people who don't think they want to collaborate and trick them into doing it anyway.
Does Creative Services complicate the touring company's ability to claim nonprofit status?
If we were making 10 million dollars a year on our Creative Services work, there might be some concern, but we're still a small arts organization that makes a little more through the occasional commercial project.… It happens much less frequently than we would like.
More like moonlighting than bringing home the bacon.
Yes, but it is still part of our mission, which is to do interesting things. If we get hired to create for a company, it's rare that they want what we've already got. Invariably we're asked to do something that causes us to think in a new way. It's sort of like having funded R&D. Our work in shadows was initially suggested by the advertising agency that was working for Hyundai.
So it's a skunkworks.
Exactly. [Laughs] There's a radar-resistant skin on everything.
Is there anyone who doesn't get to chime in?
We have a pretty open studio. When the local plumber comes in, he usually has something to say about what we're doing. We solicit, and accept happily, comment from all quarters.
Pilobolus visits the Harris Theater Friday 28 and Saturday 29.