Preview | Hubbard Street Dance Chicago: "danc(e)volve: New Works Festival"
A new, two-week series at the MCA Stage lets Hubbard's fine dancers flex their creative muscles.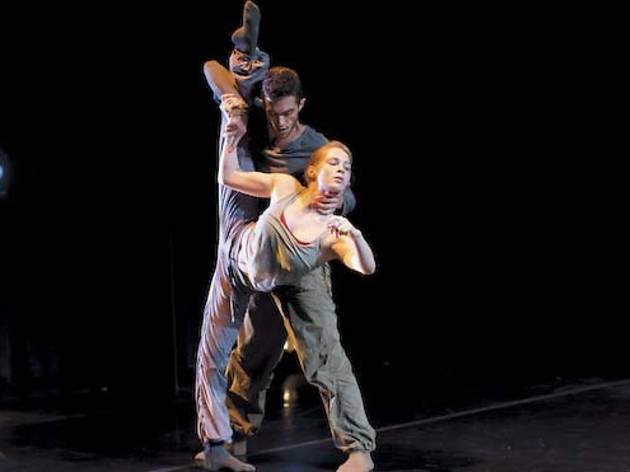 Wearing bright blue socks and a Red Sox jersey with PEDROIA emblazoned on its back, new Hubbard Street 2 member Johnny McMillan reviews a phrase he just learned. He and his dance partner Alicia Delgadillo narrowly mistime a complicated interlocking of limbs. Under her breath, Delgadillo says "shit."
They try again. It works.
"I appreciate the effort," says their choreographer, Penny Saunders. "I know this is all new." Saunders is new to choreography, too: A star member of Hubbard Street's main company of dancers, the 33-year-old calls her piece, Bonobo, inspired by vaudevillians and Depression-era road shows, her "first big project."
It's one of nine new dances hitting the [node:166725 link=MCA Stage;] over two weekends beginning January 19. While the choreography Hubbard Street Dance Chicago performs tends to come from high-zoot, high-dollar names recognized throughout the dance world, "danc(e)volve: New Works Festival" is the company's biggest investment yet in the creativity of its members. It's essentially a dramatic expansion of HSDC's [node:14821841 link=summer choreography workshop, "Inside/Out.";]
McMillan will premiere a work as well, for his colleagues in HS2 and Alice Klock, recently promoted. Just 19 years old, McMillan says the opportunity to create and direct a fully produced piece "is not something I was expecting to happen now." But he's obviously enthused as he details his fascination with a recent chance discovery, thanks to Tumblr: the Sami people indigenous to northern Scandinavia. Music by two Sami artists, Pekka Lehti and Mari Boine, scores McMillan's dance, and the culture's traditional garb, gákti, is the basis for Rebecca Shouse's costume designs. He's been watching a lot of video online of dance by European choreographer Iván Pérez, "although I wouldn't say that my stuff looks like his," he says.
In addition to Saunders's piece, McMillan will perform in the only work on both "danc(e)volve" programs, a duet by HSDC resident choreographer [node:127440 link=Alejandro Cerrudo;], 31. Its title, Never was, is a lyric from the aria that scores its second part, "Ombra mai fu" from Handel's 1738 opera, Serse. On a borrowed DVD, McMillan and fellow HS2 dancer Emilie Leriche are beautifully in tune with each other and with Cerrudo's trademark lubricious mechanics, which slip in and out of view in near-total darkness. "They're very, very strong," Cerrudo says of the pair, "and they'll try anything." Because HS2, HSDC's junior ensemble, doesn't offer local repertory programs as HSDC does, "danc(e)volve" is a rare opportunity to see this work onstage in Chicago.
Klock, 23, has chosen not to start from scratch but to expand upon a work she made for last year's "Inside/Out." For a quasi-autobiographical duet for Leriche and Nicholas Korkos, she found that composer Clint Mansell's music for the closing credits of Darren Aronofsky's The Fountain was "the best environment" for her affecting, stop-and-start dance.
The duet's new section comes first; Korkos still represents "the people or circumstances that have formed who I am as a person," she says. "It's a tribute, in a way, to those experiences, whether they were positive or negative, as necessary things."
---
Hubbard Street Dance Chicago and Hubbard Street 2 bring nine new works to the MCA Stage January 19–29.
Sign up for Time Out Chicago's Unscripted e-mail newsletter to get our editors' top picks in theater, dance and comedy plus interviews, reviews and more in your inbox every Wednesday.