Chicago's most wanted
The FBI has given Chicago's most wanted bank robbers ridiculous nicknames. How could we not make fun of them?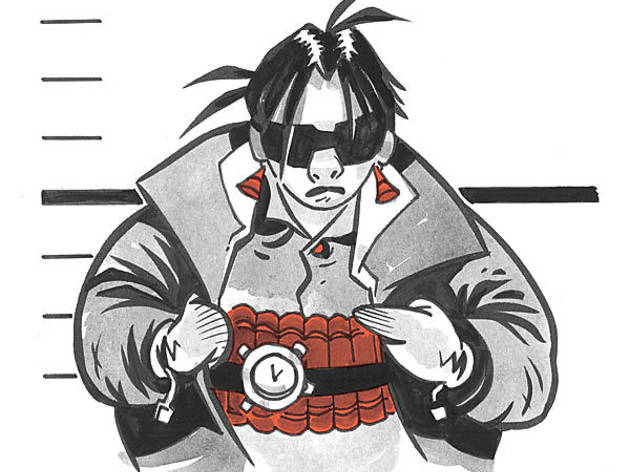 Illustrations by Dave Crosland
Orange Glove Bandit
Description 5'8" black male; bomber-style jacket; small scar on left cheek
Won nickname by Donning petite orange gloves while articulating his cash needs to a South Side Bank of America teller on March 18
The FBI might search An afternoon tea, where appropriately garbed guests nibble on finger sandwiches and sip Earl Grey
Duffel Bag Bandit
Description 5'9" white male; baseball cap; dark-colored pants with stripes
Won nickname by Stuffing a long gun in a duffel bag before robbing an Associated Bank in Glenview on March 30
The FBI might search An upscale gym where clientele sport matching adidas track suits and bags. Clearly, this guy needs help managing his anger, and blowing off steam on the treadmill isn't cutting it.
Foul-mouthed bandit
Description 6' black male; goatee, navy blue jacket, red skull cap
Won nickname by Swiping money from a Fifth Third Bank in Skokie on February 3 while unleashing a stream of profanity
The FBI might search A creative song-writing class that teaches students to pen ditties in the style of Lil Wayne
Cross-dressing bandit
Description 5'9"–6' black male; pink and black dress, sun hat, white gloves, white sandals, black purse
Won nickname by Wearing his (that's "her" to you!) finest church dress for the robbery of a Park Ridge MB Financial Bank on August 13, 2008
The FBI might search The plus-size Easter sale at Penney's
10-second bandit
Description 5'7"–6' black male; thin mustache, high cheekbones, pockmarked face
Won nickname by Nabbing cash from at least three banks in a swift manner—he's in and out like a fiddler's elbow
The FBI might search Viagra message boards
Bomb lady bandit
Description Hispanic female; dark coat, dark shades
Won nickname by Pulling a bomb out of a bulky coat during a TCF Bank heist in April 2008
The FBI might search The down-jacket section of Burlington Coat Factory
The cast of characters
|
Public Enemies of Chicago
|
Dumb bank robbers
|
Chicago's most wanted
|
Bank robber nicknames
|
Public Enemies red carpet screening