Drive Angry | Guilty pleasure
An odd mash-up that spins The Fugitive and Ghost Rider on the wheels of '70s muscle cars, Drive Angry flopped at the box office in January, but the...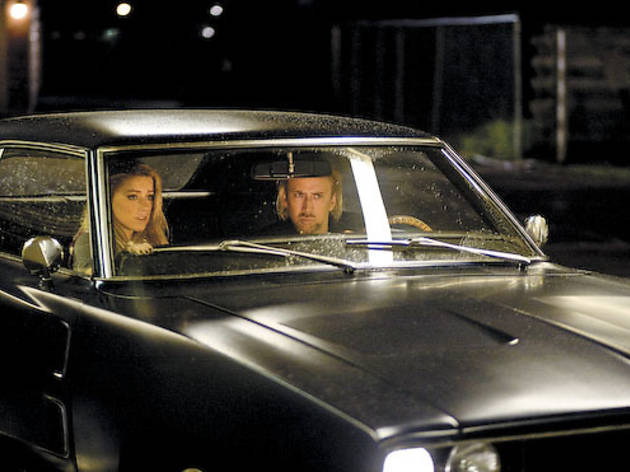 An odd mash-up that spins The Fugitive and Ghost Rider on the wheels of '70s muscle cars, Drive Angry flopped at the box office in January, but the film's tawdriness feels better suited to late-night viewings on the sofa anyway. It comes to VOD, DVD and Blu-ray Tuesday 31.
In the latest in a long string of batshit roles, Nicolas Cage plays the portentously named John Milton, who blazes out of Hell in a Buick Riviera on a mission to avenge the murder of his daughter at the hands of Satan-worshipping cult leader Jonah King (Billy Burke). King intends to sacrifice Milton's infant granddaughter under a full moon in an effort to bring Hell to Earth. Milton is pursued by the Accountant (William Fichtner), a man who can kill with the flip of a coin and who has left Hell to retrieve its errant tenant.
While stopping at a diner, Milton picks up a '69 Dodge Charger and its owner, Piper (Amber Heard), a recently out-of-work waitress. Her Daisy Dukes notwithstanding, Piper serves less as a sex symbol than an avatar for Milton's deceased daughter, who exists only in flashbacks of her grisly death. The paternalistic relationship spares us uncomfortable scenes of flirtation between Cage's mangy antihero and Heard's sassy spitfire.
An expert at scenery chewing, Cage plays it surprisingly cool here, ceding the more insane antics to Burke, whose cult leader is a bold and brash cartoon of a villain. He carries a walking stick made from the femur of Milton's daughter, a fact he happily points out while beating him with it.
Always a joy to watch, Fichtner is deliciously fun here. His role is reminiscent of Tommy Lee Jones in The Fugitive, as he chases down Milton without any real concern for why he has escaped. The Accountant, however, takes a sly sense of delight in his job, as if this trip is as much a vacation as it is work—a chance to leer at women and deal out some destruction of his own while seeking his charge.
A slick ride through car flips and shotgun blasts, the film keeps its mythology sparse. We're never told explicitly why Milton wound up in Hell in the first place—it's simply implied by how good he is at killing people on his current mission. It's only when Milton takes time out to talk about his daughter that things get sluggish and you get itchy for the next gunfight.
Director Patrick Lussier's previous film, the remake of My Bloody Valentine, was among the first in the current trend of 3-D horror films, which is probably why his follow-up was shot with the übertrendy technology. But even without the extra dimension, Drive Angry delivers just about everything you could hope for from its high-concept premise: splattering violence, car chases and a slow motion, mid-coital gunfight. It's pure exploitation and makes no apologies about it.