Fight scene
In the battle of music-venues-turned-movie-houses, who wins: Lincoln Hall's new film night or the venerable Brew & View?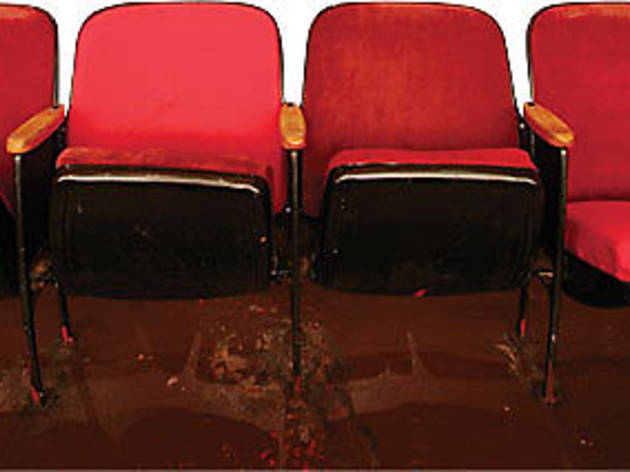 BREW & VIEW AT THE VIC $5
Sound/picture quality While you might expect less-than-spectacular surround sound at a concert, it's harder to take in a movie that sounds great only near the sound booth. The screen makes up for it, though, spanning the entire stage with pretty good picture quality.
Movie selection Triple features with a mix of old (on a recent night, an Adam Sandler tribute included Happy Gilmore, The Wedding Singer and Billy Madison) and newish (second-run films).
Seats (Slightly) padded chairs and cushy, stationary benches so you can sit up or lounge around as if you're at home.
Concessions The beer selection is a bit narrow, offering mostly Miller and Bud products for $3, plus $3 bags of popcorn.
Crowd Mostly couples on weekday nights, but on weekends expect the rowdiness to ratchet up as the night goes on.
When On nights when the Vic isn't staging a concert; check brewview.com for schedule (3145 N Sheffield Ave, 773-929-6713).
LINCOLN HALL free
Sound/picture quality Crystal clear, but the screen hangs high, so expect neck cramps if you're sitting up front.
Movie selection One or two old favorites (Slap Shot, on a recent night).
Seats Folding chairs, but actually not all that uncomfortable.
Concessions In honor of the building's former life as the 3 Penny Cinema, Lincoln Hall offers $3 specials, including beer (Bud drafts, Busch Lite tallboys), cocktails and food.
Crowd The DePaul vicinity brings in college students, but you'll find plenty of postgrads in the audience, too.
When On the rare concertless night; check lincolnhallchicago.com for schedule (2424 N Lincoln Ave, 773-525-2501).
WINNER: LINCOLN HALL
Luxury theater reviews:
Hollywood Boulevard Cinema
|
AMC Yorktown Premium Cinema
|
Kerasotes ShowPlace ICON
|
Screen at theWit
|
Gold Class Cinemas—Bolingbrook
|
Muvico Rosemont 18
---
Brew and View vs. Lincoln Hall
|
Best cheap theaters
|
Secrets of the screening room
|
TOC movie awards
|
Chicago's last video stores
|
Best VHS films