Gold Class Cinemas-Bolingbrook | Movie Theater Review
Impeccable service, comfy suede chairs and tasty food while you watch a movie.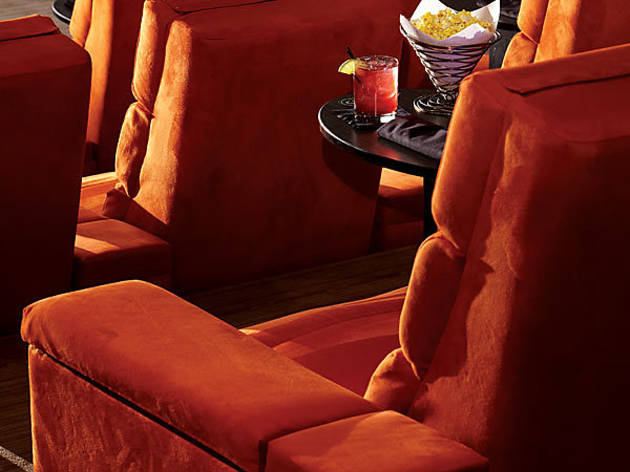 You can't traipse around west-suburban Bolingbrook's Gold Class Cinemas in a bathrobe, but it's as close to a high-end spa/hotel experience as you'll find in a movie theater, including the plush blankets and pillows that accompany the huge suede recliners. Impeccable service begins at check-in, continues in the tastefully appointed lounge—think posh table seating, vases sporting dried flowers, abstract paintings, black granite fireplace, muted orange/brown/gold fabrics, smooth R&B jams—and finishes with a host escorting you to your seat (one of only 32 in each theater) before filling additional food and drink orders while you relaaaax. No commercials, just previews and the main attraction while you munch delightful portobello sliders (though you get only a measly two for $11) and chewy-crunchy potato chips, warm and dripping with blue cheese. Save room for a vanilla manhattan and popcorn mixed with chunks of white and dark chocolate in an artistic wire basket. Heavenly, until you check the bill ($22 admission plus a $3-per-ticket online fee means it's $50 to get you and your date in the door, though a rep says the online fee's dropping to a buck). But is it splurge-worthy? Go once, and you'll clamor for a sequel. The Promenade Bolingbrook, 619 E Boughton Rd, Bolingbrook (630-378-8034; goldclasscinemas.com); the Arboretum of South Barrington, 100 W Higgins Rd, South Barrington (224-293-1001).