Hollywood Boulevard Cinema | Movie theater review
We check out the full-service theater in Woodridge.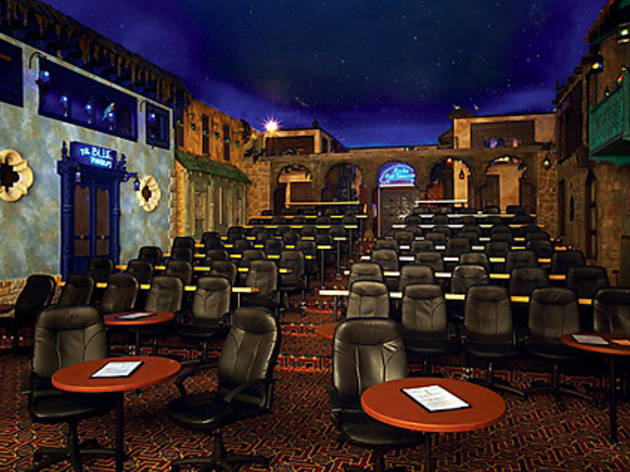 1/2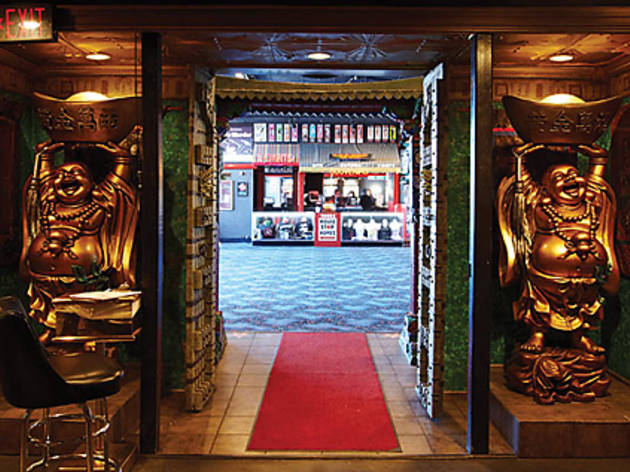 2/2
Inside this Woodridge theater, Asian statuary and replicas of stars' handprints in cement (there's Jimmy Stewart!) pay homage to Mann's Chinese in that other Hollywood. Yet moviegoers won't find a particularly plush theatrical experience here. Think Brew & View with comfy seats. But the service is as jovial as the menu, which includes such gems as Honey I Blew Up the Salad, Lord of the Onion Rings and Catherine Zeta Bruschetta (not quite as tasty as its namesake, but thankfully devoid of Michael Douglas jerky). I'm not quite sure what to make of the Linda Blair pizza, but I bet the artichoke sauce is delish. Before entering the 160-seat main auditorium for the 10pm show one recent Saturday, I hit the rockin' lobby bar where Jimmy the mixologist is promising patrons that a colleague will dance for the next person who orders a pitcher of margaritas. I check the selection of Coppola wines (natch) and the extensive cocktail list before settling on what turns out to be a raunchy margarita. We enter the auditorium to find round four-tops down front and row after row of narrow laminate tables behind which sit black office chairs (there must have been a sale at Staples). The Hollywood is quirky, cheap ($8 a seat) and has a lot of heart. It's obviously run by people who want to share their passion for movies, which earns them a big thumbs-up, even if the experience is a tad cheesy—probably like the Linda Blair pizza. 1001 W 75th St, Woodridge (630-427-1880, atriptothemovies.com). Find out about sister cinema, Hollywood Palms in Naperville, at hollywoodpalmscinema.com.